Exercise 'Complex' VS 'simple'- Single bout of Badminton may enhance executive functions not running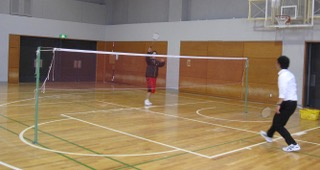 According to a new study, a Single bout of complex exercise like playing Badminton may enhance executive functions not running. Executive function, attention, and memory are an important indicator of cognitive health. The study has been published in PLOS ONE.
Research on the relationship between exercise, physical activity and cognition, learning and academic achievement in children has increased in the past ten years. Previous studies have shown that regular complex exercise is associated with greater positive effects on executive functions compared to simple exercise. In this study, the authors investigated whether a single bout of complex exercise has an effect on executive function compared to simple exercise.
Studies have shown that exercise improves specific aspects of cognition such as attention and on-task behaviour. Research suggests coordinative motor activity paired with increasingly complex cognitive demands may improve attention, on-task behaviour, self-control, and memory. Impairments in executive function, e.g., difficulties to sustain attention, increased distractibility, or reduced control of response interference are common among patients with ADHD and exercise helps in such patients as well.
Studies of the cognitive benefits of physical activity need to move beyond simple aerobic activities that require little thought (treadmill running, riding a stationary bicycle, or rapid walking) and resistance training. Many studies have looked at this in older adults, and the evidence points strongly to those activities having little or no cognitive benefit, certainly little or no improvement to the executive functions that depend on the prefrontal cortex. There is encouraging evidence for other types of physical activity improving executive functions; however, they have received far less study.
Twenty young adult participants played badminton (complex exercise), ran (simple exercise), and sat (control) for ten minutes per task, performing a cognitive test before and after each intervention. Badminton significantly improved performance on the test compared to seated rest; however, running did not enhance performance on the test relative to seated rest, suggesting that a single bout of complex exercise provides a larger benefit to inhibitory function than a single bout of simple exercise.
For further reference log on to :
https://journals.plos.org/plosone/article?id=10.1371/journal.pone.0216842