................................ Advertisement ................................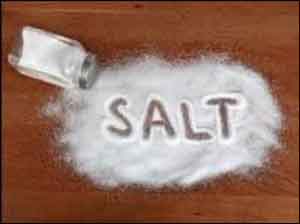 Excessive dietary salt intake may induce cognitive impairment, find investigators.The researchers have found that Dietary Salt Induces Cognitive Impairment by Promoting Tau Pathology.The study will be presented at the American Neurological Association 2019 Annual Meeting (October 13-15 in St. Louis).
Dr Giuseppe Faraco,at Feil Family Brain and Mind Research Institute – Weill Cornell Medicine, New York, NY, USA and colleagues tested whether a high salt diet impairs cognition through NO by increasing phosphorylation of Tau and forming Tau clumps or aggregates, which occur in several forms of clinical dementia.
A high salt diet (HSD) has been associated with risk of dementia even when high blood pressure is controlled. These investigators reported last year that high salt intake in animals caused damage to vessels and reductions in blood flow within the brain by reducing the amount of nitric oxide (NO) produced by blood vessel endothelial cells.
................................ Advertisement ................................
The researchers have  found that high salt diet activates a kinase known to phosphorylate Tau and indeed phosphorylated Tau aggregates formed in mice fed excessive salt. In mice that specifically lack Tau either by genetic knockout or Tau depletion using anti-Tau antibody, HSD did not induce dementia, even though it still reduced NO and blood circulation in the brain. This new insight directly connects dietary salt and Tau regulation mediated through specialized cells in blood vessels and strengthens the evidence that avoiding excessive salt may protect both brains vascular and cognitive health.
................................ Advertisement ................................
Earlier studies have found that a diet rich in salt promotes stroke and dementia independently of hypertension (Farquhar, J Am Coll Cardiol, 2015; Gardener, Stroke, 2012). In mice, a high salt diet (HSD) impairs the endothelial regulation of microvascular flow and lowers cerebral blood flow (CBF), effects due to suppression of endothelial nitric oxide (NO ) production and associated with profound cognitive impairment (Faraco, Nat Neurosci, 2018). However, how endothelial NO leads to cognitive impairment is unclear. Since, accumulation of phosphorylated tau has been linked to vascular cognitive impairment and endothelial dysfunction (Nation, JAMA Neurol, 2015; Qiu, Sci Rep, 2016; Raz, Neurobiol Dis, 2018; Kim, JAMA Neurol, 2018), we tested the hypothesis that high salt diet affects cognition through tau phosphorylation. C57BL/6 mice were fed HSD (8% NaCl) or normal diet (ND; 0.5% NaCl) for 12 weeks. HSD increased tau phosphorylation both at Ser202Thr205 (AT8) and Thr231 (RZ3) in both neocortex and hippocampus. Immunohistochemistry showed AT8 immunoreactivity in neuronal cell bodies of the pyriform cortex and other cortical regions. Furthermore, consistent with an increase in insoluble tau, HSD increased tau in both RIPA and formic acid-soluble fraction, at 12 weeks of HSD. Administration of L-Arg (10gr/L in drinking water), which restores endothelial and cognitive function (Faraco, Nat Neurosci, 2018), prevented the HSD-induced increase in tau phosphorylation. Since reduced endothelial NO may induce cleavage of p35 into p25 by calpain and activate Cdk5 (Austin, Circ Res., 2016), a major kinase mediating tau phosphorylation, we examined if HSD influences calpain and Cdk5 activity. HSD increased the catalytic activity of both calpain and Cdk5, whereas L-Arg administration suppressed the activity of both enzymes, further implicating a deficit in endothelial NO in the effects of HSD on tau. In addition, consistent with the involvement of a deficit in endothelial NO, we found that HSD reduces calpain nitrosylation and increases its enzymatic activity. HSD-induced cognitive impairment was not observed in Tau-/- mice and after treatment of WT mice with anti-tau antibodies (HJ8.8) despite the persistence of reduced CBF and endothelial vasomotor dysfunction, providing evidence that tau pathology, not cerebral hypoperfusion, is the ultimate mediator of the cognitive dysfunction.
The findings unveil a previously-unrecognized link between dietary habits, endothelial dysfunction and tau pathology, and suggest that avoiding excessive salt intake might be beneficial in maintaining both vascular and cognitive health.
................................ Advertisement ................................
For further reference log on to :
Dietary Salt Induces Cognitive Impairment by Promoting Tau Pathology file:///C:/Users/hp/Downloads/ANA2019%20Highlighted%20Abstracts.pdf
Author Details
Dr Kamal Kant Kohli-MBBS, DTCD- a chest specialist with more than 30 years of practice and a flair for writing clinical articles, Dr Kamal Kant Kohli joined Medical Dialogues as an Editor-in-Chief for the Speciality Medical Dialogues section. Besides writing articles, as an editor, he proofreads and verifies all the medical content published on Medical Dialogues including those coming from journals, studies,medical conferences,guidelines etc.
Before Joining Medical Dialogues, he has served at important positions in the medical industry in India including as the Hony. Secretary of the Delhi Medical Association as well as the chairman of Anti-Quackery Committee in Delhi and worked with other Medical Councils in India. Email: editorial@medicaldialogues.in. Contact no. 011-43720751
To know about our editorial team click here
................................ Advertisement ................................