Evaluation of post-operative analgesia by intercostal nerve block versus peritubal infiltration of ropivacaine : Study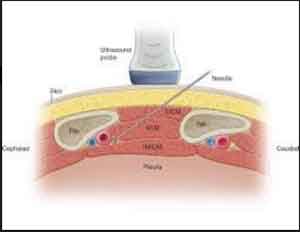 Intercostal nerve blockade (ICNB) and peritubal infiltration of the nephrostomy tract are well-established regional anaesthetic techniques for alleviating pain after percutaneous nephrolithotomy (PCNL). A recent prospective study published in the August 2017 issue Indian Journal of Anaesthesia compared the efficacy of ICNB and peritubal local anaesthetic infiltration of the nephrostomy tract in providing post-operative analgesia following PCNL.
In the study, Sixty American Society of Anesthesiologist physical status 1 and II patients scheduled for PCNL requiring nephrostomy tube were randomised to receive either peritubal infiltration or ICNB. At the completion of the procedure, patients in Group P received peritubal infiltration and those in Group I received ICNB at 10, 11, 12thspaces using fluoroscopy guidance. Postoperatively, patients were followed for 24 h for pain using Visual Analogue Scale (VAS) and Dynamic VAS. Rescue analgesia was inj. tramadol 1 mg/kg IV when pain score exceeded 4. Time to first rescue analgesia, number of doses and patient's satisfaction were noted in all patients.
Authors Nirmala Jonnavithula, Raveendra Reddy Chirra, Sai Lakshman Pasupuleti, Rahul Devraj, Vidyasagar Sriramoju, Murthy VLN Pisapati, who are assocaited with Nizam's Institute of Medical Sciences found that the pain scores were lower in the group I at all points of measurement than group P. The mean time to first demand for rescue analgesia was higher in Group I (13.22 ± 4.076 h vs 7.167 ± 3.92 h P - 0.001). The number of demands and the amount of analgesics consumed were less in Group I.
The authors concluded that ICNB provided superior analgesia as evidenced by longer time to first demand of analgesic, reduced number of demands and consumption of rescue analgesic. Peritubal infiltration, although less efficacious, may be a safe and simple alternative technique.
The study has been published in August 2017 issue of Indian Journal Of anesthesia, the official journal of Indian Society of Anaesthesiologists
You can read the full article by clicking on the following link :
Jonnavithula N, Chirra RR, Pasupuleti SL, Devraj R, Sriramoju V, Pisapati MV. A comparison of the efficacy of intercostal nerve block and peritubal infiltration of ropivacaine for post-operative analgesia following percutaneous nephrolithotomy: A prospective randomised double-blind study. Indian J Anaesth [serial online] 2017 [cited 2017 Aug 28];61:655-60. Available from: http://www.ijaweb.org/text.asp?2017/61/8/655/212886
Source : Indian Journal of Anaesthesia