EULAR updates guidelines for the management of large vessel vasculitis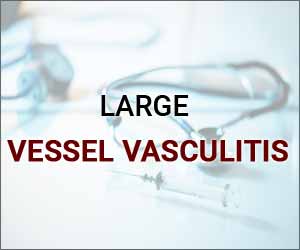 The European League Against Rheumatism (EULAR) has updated treatment guidelines for the management of large vessel vasculitis (LVV). The guidelines have been updated to facilitate the translation of current scientific evidence and expert opinion into better management and improved outcome of patients in clinical practice.
The guidelines, which were last updated in 2008, incorporate findings from the results of newly published randomized clinical trials. When left untreated, large vessel vasculitis could lead to more serious complications, such as giant cell arteritis-related blindness, vascular stenosis, aortic aneurysm or Takayasu arteritis (TAK).
The updated guidelines were published online first July 3 in the
Annals of the Rheumatic Diseases.
in all three overarching principles and 10 recommendations were formulated. The guideline development group recommended that a suspected diagnosis of LVV should be confirmed by imaging or histology. High dose glucocorticoid therapy (40–60 mg/day prednisone-equivalent) should be initiated immediately for induction of remission in active giant cell arteritis (GCA) or Takayasu arteritis (TAK). We recommend adjunctive therapy in selected patients with GCA (refractory or relapsing disease, the presence of an increased risk for glucocorticoid-related adverse events or complications) using tocilizumab. Methotrexate may be used as an alternative. Non-biological glucocorticoid-sparing agents should be given in combination with glucocorticoids in all patients with TAK and biological agents may be used in refractory or relapsing patients. We no longer recommend the routine use of antiplatelet or anticoagulant therapy for the treatment of LVV unless it is indicated for other reasons.


Following are the major recommendations:




All patients presenting with signs and symptoms suggestive of GCA should be urgently referred to a specialist team for further multidisciplinary diagnostic work-up and management.


All patients presenting with signs and symptoms suggestive of TAK should be referred to a specialist team for multidisciplinary diagnostic work-up and management


A suspected diagnosis of LVV should be confirmed by imaging (ultrasound* or MRI§ for temporal or other cranial arteries, ultrasound, CT, PET-CT or MRI for the aorta/extracranial arteries#) or histology (TAB*)


High dose GC therapy (40–60 mg/day prednisone-equivalent) should be initiated immediately for induction of remission in active GCA or TAK. Once disease is controlled, we recommend tapering the GC dose to a target dose of 15–20 mg/day within 2–3 months and after 1 year to ≤5 mg/day (for GCA) and to ≤10 mg/day (for TAK)


Adjunctive therapy should be used in selected patients with GCA (refractory or relapsing disease, the presence or an increased risk of GC related adverse effects or complications) using TCZ. Methotrexate may be used as an alternative


Non-biological disease-modifying agents should be given in combination with GC in all patients with TAK. TCZ or tumour necrosis factor-inhibitors can be considered in case of relapsing or refractory disease despite conventional disease-modifying anti-rheumatic drug therapy


In the case of major relapse (either with signs or symptoms of ischaemia or progressive vascular inflammation), we recommend reinstitution or dose escalation of GC therapy as recommended for the new-onset disease. For minor relapses, we recommend an increase in GC dose to at least the last effective dose. Initiation or modification of adjunctive therapy should be considered particularly after recurrent disease relapses


Antiplatelet or anticoagulant therapy should not be routinely used for the treatment of LVV unless it is indicated for other reasons (eg, coronary heart disease, cerebrovascular disease, etc). In special situations such as vascular ischaemic complications or high risk of cardiovascular disease, these might be considered on an individual basis


In LVV, elective endovascular interventions or reconstructive surgery should be performed during stable remission. However, arterial vessel dissection or critical vascular ischaemia requires urgent referral to a vascular team


Regular follow-up and monitoring of disease activity is recommended in patients with LVV, primarily based on symptoms, clinical findings and ESR/CRP levels


For further reference log on to:
http://dx.doi.org/10.1136/annrheumdis-2019-215672