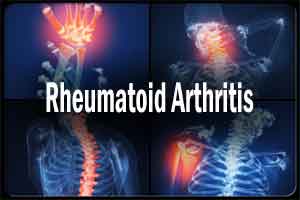 The management of rheumatoid arthritis (RA) has changed dramatically over the past 30 years. Few therapeutic agents existed then, which were either minimally or not efficacious, because of toxicity and the fact that optimal dosing and onset of action had not yet been elucidated for some agents.
 Recent insights in rheumatoid arthritis (RA) necessitated updating the European League Against Rheumatism (EULAR) RA management recommendations. A large international Task Force based decisions on evidence from 3 systematic literature reviews, developing 4 overarching principles and 12 recommendations (vs 3 and 14, respectively, in 2013). The recommendations address conventional synthetic (cs) disease-modifying antirheumatic drugs (DMARDs) (methotrexate (MTX), leflunomide, sulfasalazine); glucocorticoids (GC); biological (b) DMARDs (tumour necrosis factor (TNF)-inhibitors (adalimumab, certolizumab pegol, etanercept, golimumab, infliximab), abatacept, rituximab, tocilizumab, clazakizumab, sarilumab and sirukumab and biosimilar (bs) DMARDs) and targeted synthetic (ts) DMARDs (Janus kinase (Jak) inhibitors tofacitinib, baricitinib). Monotherapy, combination therapy, treatment strategies (treat-to-target) and the targets of sustained clinical remission (as defined by the American College of Rheumatology-(ACR)-EULAR Boolean or index criteria) or low disease activity are discussed. Cost aspects were taken into consideration.
As first strategy, the Task Force recommends MTX (rapid escalation to 25 mg/week) plus short-term GC, aiming at >50% improvement within 3 and target attainment within 6 months.
If this fails stratification is recommended. Without unfavourable prognostic markers, switching to—or adding—another csDMARDs (plus short-term GC) is suggested.
In the presence of unfavourable prognostic markers (autoantibodies, high disease activity, early erosions, failure of 2 csDMARDs), any bDMARD (current practice) or Jak-inhibitor should be added to the csDMARD.
If this fails, any other bDMARD or tsDMARD is recommended.
If a patient is in sustained remission, bDMARDs can be tapered.
For each recommendation, levels of evidence and Task Force agreement are provided, both mostly very high.
 General principles for the treatment of patients with RA as overarching .
Treatment of patients with RA should aim at the best care and must be based on a shared decision between the patient and the rheumatologist.
Treatment decisions are based on disease activity and other patient factors, such as progression of structural damage, comorbidities and safety issues.
Rheumatologists are the specialists who should primarily care for patients with RA. Originally presented as item B
RA incurs high individual, medical and societal costs, all of which should be considered in its management by the treating rheumatologist
Recommendations
The Task Force's deliberative process resulted in 12 recommendations.
Therapy with DMARDs should be started as soon as the diagnosis of RA is made.
Treatment should be aimed at reaching a target of sustained remission or low disease activity in every patient.
Monitoring should be frequent in active disease (every 1–3 months); if there is no improvement by at most 3 months after the start of treatment or the target has not been reached by 6 months, therapy should be adjusted.
MTX should be part of the first treatment strategy.
In patients with a contraindication to MTX (or early intolerance), leflunomide or sulfasalazine should be considered as part of the (first) treatment strategy.
Short-term GC should be considered when initiating or changing csDMARDs, in different dose regimens and routes of administration, but should be tapered as rapidly as clinically feasible.
If the treatment target is not achieved with the first csDMARD strategy, in the absence of poor prognostic factors, other csDMARDs should be considered.
If the treatment target is not achieved with the first csDMARD strategy, when poor prognostic factors are present, addition of a bDMARD* or a tsDMARD* should be considered; current practice would be to start a bDMARD.
bDMARDs* and tsDMARDs# should be combined with a csDMARD; in patients who cannot use csDMARDs as comedication, IL-6 pathway inhibitors and tsDMARDs may have some advantages compared with other bDMARDs.
If a bDMARD* or tsDMARDhas failed, treatment with another bDMARD or a tsDMARD should be considered; if one TNF-inhibitor therapy has failed, patients may receive another TNF-inhibitor or an agent with another mode of action.
If a patient is in persistent remission after having tapered GC, one can consider tapering bDMARDs, especially if this treatment is combined with a csDMARD. This item remained unchanged compared with the 2013 publication.
If a patient is in persistent remission, tapering the csDMARD could be considered.
For more details click on the link :
http://ard.bmj.com/content/early/2017/03/06/annrheumdis-2016-210715