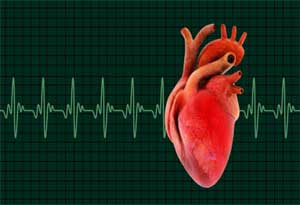 Self-administered Etripamil nasal spray was found safe and efficacious in the acute management of induced supraventricular tachycardia(SVT), according to a study published in the Journal of the American College of Cardiology.
Stambler and his colleagues conducted a study assessing the efficacy and safety of etripamil nasal spray, a short-acting calcium-channel blocker, for the rapid termination of paroxysmal supraventricular tachycardia (SVT).
Supraventricular tachycardia (SVT) is an abnormally fast heart rhythm arising from improper electrical activity in the upper part of the heart.  Patients with paroxysmal supraventricular tachycardia (SVT) who avoid or are unresponsive or intolerant to drug therapy, catheter ablation is the best option for them. For patients who do not prefer catheter ablation, drug therapy remains a viable alternative but having lower efficacy rates. For patients with frequent episodes of SVT, chronic prophylactic therapy is recommended. Selected patients with very infrequent, well-tolerated episodes of paroxysmal SVT may be treated only for acute episodes.
Read Also: Clinical trial-New technique to treat life-threatening ventricular tachycardia
The phase 2 study was performed during electrophysiological testing in patients with previously documented SVT who were induced into SVT prior to undergoing a catheter ablation. Patients in sustained SVT for 5 min received either placebo or 1 of 4 doses of the active compound.
The primary outcome was the SVT conversion rate within 15 min of study drug administration. Secondary endpoints included time to conversion and adverse events. One hundred four patients were dosed.
Key study findings:
Conversion rates from SVT to sinus rhythm were between 65% and 95% in the etripamil nasal spray groups and 35% in the placebo group
In patients who converted, the median time to conversion with etripamil was <3 min.
Adverse events were mostly related to the intranasal route of administration or local irritation.
Reductions in blood pressure occurred predominantly in the highest etripamil dose.
"Many patients who suffer from PSVT can experience sudden episodes anytime and anywhere. This fast-acting nasal spray therapy could give patients the convenience to self-administer treatment no matter the location and without having to go to the hospital," said Stambler.

The study concluded that self-administered etripamil nasal spray rapidly terminated induced SVT with a high conversion rate. The safety and efficacy results of the study provide guidance for etripamil dose selection for future studies involving self-administration of an intranasal calcium-channel blocker in a real-world setting for the termination of SVT.
For reference log on to http://www.onlinejacc.org/content/72/5/489