EROSION TRIAL- Treating MI without Stents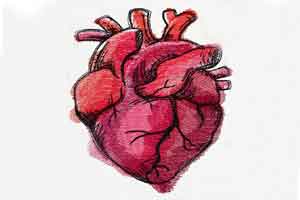 The pathogenesis of Acute Myocardial Infarction (AMI) involved plaque rupture, plaque erosion, fissuring or Spasm.Plaque erosion is supposedly causing of 1/4 th of AMIs, particularly in older people and pre-menopausal women. The management of AMI in these patients has found to be associated with increased mortality as compared to patients with plaque rupture when treated with standard policy of baloon dilatation and stenting.
Plaque erosion is suspected in an area where the endothelium is missing with attached thrombus. Plaque erosion, as compared with plaque rupture, has distinctly different underlying pathology that may be amendable to drug therapy. With the introduction of high-resolution intravascular optimal coherence tomography (OCT), Jang and colleagues hypothesized that it might be possible to make an in vivo diagnosis of plaque erosion in patients with acute coronary syndromes (ACS) and to then stabilize the lesion using anti-thrombotic therapy without stent implantation.
Recently In EROSION Trial, I-K Jang ET al. hypothesised that there may be a better treatment of these AMIs that lies in only management of thrombus, without managing the vessel valve with stent.
EROSION (Effective Anti-thrombotic Therapy without Stenting: Intravascular OCT-based Management in Plaque Erosion) was a pilot, proof-of-concept, single-center (in China), uncontrolled, prospective study that enrolled patients with ACS, including ST-segment elevation myocardial infarction (STEMI). Participants with plaque erosion diagnosed by OCT and residual diameter stenosis <70% on coronary angiography were treated with anti-thrombotic therapy. Eligible patients had TIMI flow grade 3 and were stable, without symptoms. If needed, aspiration thrombectomy was performed, but stenting was not.
Patients were treated with unfractionated heparin or low molecular weight heparin for 3 days. Dual anti-platelet therapy (aspirin 100mg/day + ticagrelor 90mg, BID) was continued. Those without recurrent ischemia were discharged on day 5. OCT was repeated at 1 month and thrombus volume was measured.
Among 405 ACS patients with analyzable OCT images, plaque erosion was identified in 103 individuals (25.4%). Sixty of these patients enrolled and 55 completed the 1-month follow-up (4 were found to have >70% stenosis by the core laboratory and 1 patient died).
The majority of patients (96.7%) had STEMI and manual thrombectomy was done in 84% of patients. Glycoprotein IIb/IIIa inhibitors were used in 63.3%.
Forty-seven patients (47/60, 78.3%) met the primary endpoint of a >50% reduction in thrombus volume at 1 month compared to baseline. In 22 patients, no thrombus was visible. Overall, thrombus volume decreased by 94.2%, from 3.7 mm3 to 0.2 mm3. Minimal flow area increased from 1.7 mm2 to 2.1 mm2.
One patient died of gastrointestinal bleeding, and another patient required repeat percutaneous coronary intervention for angiographic stenosis but without symptoms or evidence of ischemia. The rest of the patients remained asymptomatic.
The investigators concluded that plaque erosion was the underlying pathology in one-quarter of patients with ACS. For these patients, conservative treatment with anti-thrombotic therapy with aspirin and ticagrelor but without stenting may be an option. Further trials will be needed to reproduce this pilot data.
References
Next Story