Erectile dysfunction may signal increased risk of stroke, heart attack confirms another study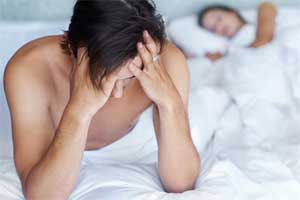 One more study has found that Erectile dysfunction may signal an increased risk of stroke, heart attack.
Men with erectile dysfunction (ED) face a higher risk of heart attack or stroke, according to a recent study involving more than 150,000 men. Considered to be a manifestation of a generalized vascular disease, erectile dysfunction (ED) could serve as an indicator for future cardiovascular events.
Erectile dysfunction, or impotence, is the inability to achieve and sustain an erection suitable for sexual intercourse. It is estimated that erectile dysfunction affects about 1 in 10 adult males on a long-term basis. A much more common problem that affects most men at some point is the occasional failure to achieve an erection
The study, published in the Journal of Sexual Medicine found that men suffering from ED have a 59% higher risk of atherosclerosis or coronary heart disease, a 34% higher stroke risk and 33% higher risk of dying from any cause as compared to men showing no signs of impotency.
Previous data demonstrating an association between ED and risk of further cardiovascular events (CV) are insufficient to make recommendations for urologists, diabetologists, and cardiologists, and also the association between CV events and ED degree is unclear.
Wenxiong Zhang, The Second Affiliated Hospital of Nanchang University, Nanchang, China, and colleagues assessed whether ED was a risk factor for CV events in a comprehensive literature review and meta-analysis.
The researchers searched PubMed, EMBASE, the Cochrane Library, Medline, and the Web of Science for eligible studies. They included 25 studies involving 154,794 individuals.
Key findings include:


Compared with those of men without ED, the CVD risk of ED patients was significantly increased by 43% (relative risk [RR] =1.43), CHD was increased by 59% (RR = 1.59) stroke was increased by 34% (RR = 1.34), and all-cause mortality was increased by 33% (RR = 1.33).


Older individuals with ED (≥55 years), those with ED of a shorter duration (<7 years), and those with higher rates of diabetes (≥20%) and smoking (≥40%) were more prone to develop CVD.


Severe ED was proven to predict higher CVD and all-cause mortality risk. The standardized model proposed here can be properly applied for screening early CV events.


"Risk of total CVD, CHD, stroke, and all-cause mortality was significantly increased in populations with ED, and severe ED is of particular concern. The evidence prompts the diligent observation of at-risk men and reinforces the importance of early treatment to prevent CV event," concluded the authors.
To read the complete study log on to
https://doi.org/10.1016/j.jsxm.2019.04.004