Epididymitis-Standard Treatment Guidelines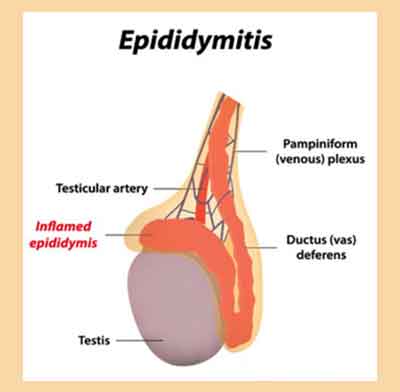 Ministry of Health and Family Welfare, Government of India has issued the Standard Treatment Guidelines for Epididymitis.
Following are the major recommendations :
Case definition
Epididymitis is inflammation of epididymis resulting in pain, swelling and tenderness of the scrotal sac. Many cases are related to genitourinary tract infections, especially sexually transmitted infections and bacterial urinary tract infections. The process causes scrotal pain and swelling that is characteristically unilateral and relatively acute in onset. It can be of two types.


Acute epididymitis: pain, swelling, and inflammation of the epididymis lasting <6 weeks. In most cases of acute epididymitis, the testis is also involved in the process (epididymoorchitis).


Chronic epididymitis is characterized by a ≥6 week history of discomfort, pain or swelling in the epididymis. Generally seen in conditions with granulomatous reaction e.g tuberculosis (most common granulomatous disease affecting the epididymis). Tuberculous epididymitis should be suspected in all patients whose clinical status worsens despite appropriate antibiotic treatment.


Causes of acute epididymitis1. Among sexually active men (<35 years)


Most frequently- C. trachomatis or N. gonorrhoeae.


Sexually transmitted enteric organisms e.g., Escherichia coli and Pseudomonas spp. Sexually transmitted acute epididymitis usually is accompanied by urethritis, which frequently is asymptomatic.


2. In men aged >35 years


Sexually transmitted epididymitis is uncommon.


Bacteriuria secondary to obstructive urinary disease (e.g., benign prostatic hyperplasia).


Association with urinary tract instrumentation, surgery, systemic disease and immunosuppression.


Sequelae


Abscess formation


Infarction of the testicle


Gangrene of the testicle


Subfertility or Infertility


Chronic epididymalgia or epididymitis


INCIDENCE OF THE CONDITION IN OUR COUNTRY
Epididymitis is common, and it carries much morbidity in terms of suffering and loss of time from work. Researchers have reported that the incidence of epididymitis may range from one to four per 1000 men per year3,4. No institutional data available in India.
DIFFERENTIAL DIAGNOSIS (non RTIs/STIs)


Testicular torsion: surgical emergency, occurs more frequently in adolescents and in men without evidence of inflammation or infection.


Infections: Filariasis, Coliforms or pseudomonas infection, Mumps virus infection, fungal infection.


Non infectious causes: Trauma, Hernia, Hydrocoele, Testicular tumor, testicular infarction.


PREVENTION AND COUNSELINGGeneral measures as applicable to all patients with suspected STIs


Educate and counsel patient and sex partner(s) regarding RTIs/STIs, genital cancers, safer sex practices and importance of taking complete treatment.


Treat partner(s) for the suspected organisms.


Advise sexual abstinence during the course of treatment to minimize transmission.


Promote the use of barrier contraception like condoms, educate about correct and consistent use.


Refer for voluntary counseling and testing for HIV, Syphilis and Hepatitis B.


Consider immunization against Hepatitis B.


Schedule return visit after 7 days to ensure treatment compliance as well as to see reports of tests done.


If symptoms persist, assess whether it is due to treatment failure or reinfection and advise prompt referral.


OPTIMAL DIAGNOSTIC CRITERIA, INVESTIGATIONS, TREATMENT & REFERRAL CRITERIA
Situation 1: At Secondary Hospital/ Non-Metro situation: Optimal Standards of Treatment in Situations where technology and resources are limited
Clinical DiagnosisIn a male suffering from urethritis, the onset of scrotal tenderness and swelling suggests the diagnosis of epididymitis.
Clinical diagnosis is based on


erythema or asymmetry in scrotal size.


scrotal swelling, minimal or more apparent.


penile size, oedema or phimosis should be examined.


Meatal erthema, discharge (thick, creamy or mucopurulent).


Milking the penis (urethra) may produce discharge at the meatus.


Shaft of penis with papules, nodules, ulcers or other skin lesions.




Of inguinal region for tender lymphnodes.


Of spermatic cords to rule out tenderness, asymmetry, and thickening.


Of scrotum to assess for asymmetry, tenderness and consistency of testes and
epididymis.




Transillumination: to rule out hydrocoele.


Hernia to be assessed for.


Clinical features


Unilateral testicular pain and tenderness.


Hydrocele and palpable swelling of the epididymis.


Inflammation and swelling usually begins in the tail of the epididymis and spreads to involve the rest of the epididymis and testicle.


Spermatic cord tender and swollen.


Investigations
To assess for


urethritis and urinary-tract infection.


to rule out the various differentials.


These include


Gram stain of urethral secretions demonstrating ≥5 WBC per oil immersion field. If normal, then epidiymitis as a cause of scrotal pain is highly unlikely.


Positive leukocyte esterase test on first-void urine.


Microscopic examination of first-void urine sediment demonstrating ≥10 WBC per high power field.


Urine culture: In asymptomatic patients colony counts of >1 X 10(5) cfu/ml of urine is significant. In cases with acute dysuria and frequency colony count of 1 X 10(2) cfu/ml bacteria is the most useful criterion. Also aids in identification of gram species.


Testing for other STDs as the setting suggests.


Ultrasound: Primarily used for ruling out torsion of the spermatic cord. Otherwise, minimal utility in a clinical presentation consistent with epididymitis. Reserved for patients with scrotal pain who cannot be diagnosed accurately by physical examination, history, and objective laboratory findings.


TreatmentStandard Operating procedure


Empiric therapy is indicated before laboratory test results are available.


Treat for C. trachomatis and N. gonorrhoeae


Goals of treatment are




microbiologic cure of infection,


improvement of signs and symptoms,


prevention of transmission to others


decrease in potential complications (e.g., infertility or chronic pain).


Adjunct therapy


Bed rest with scrotal elevation with T bandage.


Analgesics are recommended until fever and local inflammation have subsided.


Treat for both gonococcal and chlamydial infections.


Recommended regime


Tab Cefixime 400 mg orally BD for 7 days.


OR


Inj. Ceftriaxone 250 mg IM in a single dose.


PLUS


Cap. Doxycycline 100mg orally, twice daily for 14 days.


Additional therapy to include a fluoroquinolone




if infection not found to be caused by gonorrhea or


if enteric organisms are more likely (e.g., MSM who report insertive anal intercourse).


Or if significant gram negative bacteriuria is present.


In these cases


T. Levofloxacin 500 mg orally once daily for 10 days


OR


T. Ofloxacin 300 mg orally twice a day for 10 days




If gonococcal infection is confirmed (or is highly likely), patient to be hospitalised and parenteral cephalosporin (Ceftriaxone) to be started as it is a complicated gonococcal infection. A longer duration of treatment may be needed. (Refer to guidelines on urethral discharge).


Syndrome specific guidelines for partner management


Patients to be instructed to refer sex partners for evaluation and treatment if their contact with the index patient was within the 60 days preceding onset of their own symptoms.


Instructed to abstain from sexual intercourse until they and their sex partners have been adequately treated (i.e., until therapy is completed and patient and partners no longer have symptoms).


Partner needs to be treated depending on the clinical findings.


Management protocol in case the partner is pregnant


Depending on the clinical findings in the pregnant partner (whether vaginal discharge or endocervical discharge or PID is present) the drug regimens should be used.


Doxycycline is contraindicated in pregnancy.


Erythromycin base/Amoxicillin can be used in pregnancy (Erythromycin estolate is contraindicated in pregnancy due to hepatotoxicity), Erythromycin base or erythromycin ethyl succinate should be given).


In patient care
Hospitalization to be considered


When severe pain suggests other diagnoses (e.g., torsion, testicular infarction, or abscess).


When patients are unable or unlikely to comply with an antimicrobial regimen.


High fever is uncommon in epididymitis and indicates a complicated infection; these patients should be admitted for further evaluation.


Parenteral therapy to be started in view of complicated gonococcal infection.


Follow-Up


Instructed to return if symptoms fail to improve within 48 hours of the initiation of treatment. Requires re-evaluation of the diagnosis and therapy.


After completion of antibiotic therapy: Swelling and tenderness that persist after completion should be evaluated comprehensively to assess for tumor, abscess, infarction, testicular cancer, TB, and fungal epididymitis.


Special ConsiderationsHIV Infection


Same treatment regimen as those who are HIV negative.


Other etiologic agents implicated in acute epididymitis with HIV infection include CMV, salmonella, toxoplasmosis, Ureaplasma urealyticum, Corynebacterium sp., Mycoplasma sp., and Mima polymorpha.


Fungi and mycobacteria are also more likely to cause acute epididymitis in this setting.


Referral criteria


If the diagnosis is questionable, then immediate referral to urologist to preserve testicular viability.


Situation 2: At Super Specialty Facility in Metro location where higher-end technology is available
Clinical Diagnosis
Same as above
Investigations
Same as above
PLUS


Culture for gonococcus.


Nucleic acid hybridization tests and NAATs: aid in quick detection of both N. gonorrhoeae and C. trachomatis. Done on urethral swab specimens (NAAT can be performed on urine as well). Because of their higher sensitivity, amplification tests are preferred for the detection of C. trachomatis.


Radionuclide scanning of the scrotum (most accurate radiologic method of diagnosis, but it is not routinely available).


Treatment
Same as above
Referral criteria
Same as above
AND Surgical management (if required)


Surgical drainage of testicular abscesses, Orchiectomy, Epididymectomy might be indicated in an older group of patients BUT ONLY after unsuccessful conservative treatment.


Surgical therapy (generally orchiectomy) may be necessary for complications of severe epididymoorchitis, such as testicular infarction, abscess formation, development of a pyocele of the scrotum (infected hydrocele).


Guidelines by The Ministry of Health and Family Welfare :
Dr. M.K. Daga
Department of Medicine
Maulana Azad Medical College
New Delhi