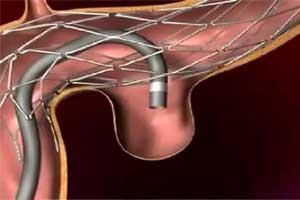 The researchers have found that the survival rate and recovery in stroke patients after a subarachnoid hemorrhage were better after endovascular coiling than after neurosurgical clipping.
Dr. Lindgren A and colleagues from the stroke group reviewed the outcome after endovascular coiling compared with neurosurgical clipping after a subarachnoid hemorrhage.
Around 30% of people who are admitted to hospital with aneurysmal subarachnoid hemorrhage (SAH) will rebleed in the initial month after the hemorrhage if an aneurysm is not treated. The outcome of such a hemorrhage is generally poor and a third of all people die within three months. In addition one of every five people remains dependent on someone else for help with everyday activities such as walking, dressing, bathing, and taking care of one's own affairs. The two most commonly used methods to occlude an aneurysm for prevention of rebleeding are microsurgical clipping of the neck of an aneurysm and occlusion of the lumen of an aneurysm by means of endovascular coiling.
The researchers searched for randomized controlled trials (RCTs, clinical studies where people are randomly put into one of two or more treatment groups) comparing endovascular coiling with neurosurgical clipping for subarachnoid hemorrhage. They found one new RCT and additional data for previously identified RCTs, allowing us to include four RCTs involving 2458 participants.
The researchers analyzed the data from RCTs and found that the number of people who survived and were independent in their daily living was higher after endovascular coiling than after neurosurgical clipping if both treatment options were possible. Risk of rebleeding was higher in people treated with endovascular coiling.
The evidence in this systematic review came mainly from one large trial, and long-term follow-up is available only for a subgroup of participants within that trial. For people in good clinical condition with ruptured aneurysms of either the anterior or posterior circulation the data from randomized trials show that, if an aneurysm is considered suitable for both neurosurgical clipping and endovascular coiling, coiling is associated with a better outcome.
For further reference log on to 10.1002/14651858.CD003085.pub3