Endometrial Scratching of no benefit for women undergoing IVF: NEJM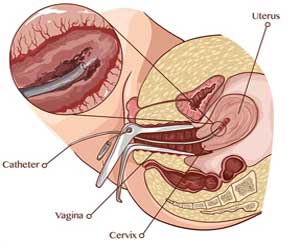 New Zealand: Endometrial scratching with the use of a pipelle biopsy is considered to facilitate embryo implantation and increase the probability of pregnancy in women undergoing in vitro fertilization (IVF). However, a new study has refuted this, claiming that endometrial scratching did not result in a higher rate of live birth than no intervention among women undergoing IVF.
An IVF cycle results in a live birth only about 25% to 30% of the time. To improve this rate, various add-on treatments have been suggested, including purposefully scratching the endometrium to cause an immunologic and inflammatory response that alters the uterine microenvironment. It had been hoped that this would enhance the viability of the transferred embryo.
Results from a large pragmatic randomized controlled trial, Pipelle for Pregnancy (PIP), published in the New England Journal of Medicine, demonstrated that rate of live births was 26.1% among women, irrespective of whether they had undergone this common add-on treatment to IVF or not.
In fact, "subgroup analyses did not identify any populations of women who might benefit," lead author Sarah Lensen, the University of Auckland, New Zealand, and colleagues report.
Moreover, this common IVF add-on "was also associated with a mild amount of pain and a small number of adverse events," they note.
The PIP trial randomly assigned 1364 women who were undergoing IVF in 13 clinics in Australia, New Zealand, Sweden, Belgium, and the United Kingdom from 2014 through 2017 to the endometrial-scratch group (690) or to the control group (674), which consisted of no intervention. Women in both groups had similar characteristics; the median age was 35 years, and the median body mass index was 24.
Just fewer than half (46%) were undergoing embryo transfer for the first time, and 30% had undergone two or more previous embryo transfers. Approximately two-thirds of women in both the scratch and the control groups received a fresh embryo. The remainder were implanted with frozen embryos.
Also Read: New Device quickly captures viable sperms to fast track IVF process
Key Findings:


The frequency of live birth was 180 of 690 women (26.1%) in the endometrial-scratch group and 176 of 674 women (26.1%) in the control group.


There were no significant between-group differences in the rates of an ongoing pregnancy, clinical pregnancy, multiple pregnancy, ectopic pregnancy, or miscarriage.


The median score for pain from endometrial scratching (on a scale of 0 to 10, with higher scores indicating worse pain) was 3.5 (interquartile range, 1.9 to 6.0).


Also Read: Endometrial scratch appears beneficial in IVF conception: Study
"There was no suggestion of benefit in any secondary outcome, including clinical pregnancy or miscarriage, nor in subgroups defined by the number of previous IVF cycles or the duration or cause of infertility," note Ben W. Mol and Kurt T. Barnhart in an accompanying editorial.
For further reference log on to
10.1056/NEJMoa1808737