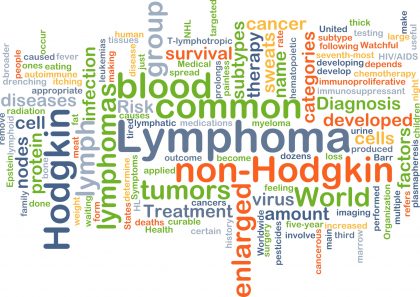 New research presented at the American Society of Clinical Oncology (ASCO) 53rd Annual Meeting in Chicago shows that a previously untested combination of a monoclonal antibody-drug conjugate with a common chemotherapy agent has a high complete-response rate in children and young adults with relapsed or refractory Hodgkin lymphoma. This cooperative-group clinical trial, Children's Oncology Group study AHOD1221 (NCT01780662), was led by Kara Kelly, MD, Waldemar J. Kaminski Endowed Chair of Pediatrics at Roswell Park Cancer Institute.
The research team evaluated the combination of the biologic therapy brentuximab vedotin (Adcetris), a monoclonal antibody-drug conjugate, with the chemotherapy drug gemcitabine (Gemzar) in 42 pediatric and young-adult patients with Hodgkin lymphoma, the most common cancer in young people ages 15 to 29.
The researchers report that these two therapies together represent a highly active combination for refractory or relapsed Hodgkin lymphoma, with a complete response rate exceeding that seen with standard therapy or following administration of either brentuximab vedotin or gemcitabine alone. Among the evaluable patients in the newly reported phase II study, 23 (58%) achieved complete response to the combination within four cycles, and 6 (15%) had a partial response.
"We found very high response rates to this treatment combination, which has the added benefit of having a much reduced risk of long-term organ damage compared to the highly toxic chemotherapy agents typically used for patients with relapsed Hodgkin lymphoma," says Dr. Kelly, who is Program Director of the Pediatric Hematology/Oncology Service Line at the Women & Children's Hospital of Buffalo and holds an additional faculty appointment with the University at Buffalo. "We're encouraged at the prospect that these findings, if confirmed in a phase III study, might represent a new standard of care for one of our most common pediatric and young-adult cancers."
The following two tabs change content below.
Anjali Nimesh
Anjali Nimesh Joined Medical Dialogue as Reporter in 2016. she covers all the medical specialty news in different medical categories. She also covers the Medical guidelines, Medical Journals, rare medical surgeries as well as all the updates in medical filed. She is a graduate from Dr. Bhimrao Ambedkar University. She can be contacted at editorial@medicaldialogues.in Contact no. 011-43720751
Latest posts by Anjali Nimesh (see all)