Emergency medical services at IGI airport- An analysis
The number of people traveling by air has increased globally on international as well as domestic airlines. India also has witnessed a phenomenal increase in air travel and IGI airport is one of the busiest airports in the world.The IGI Airport is spread across about 37 square kilometers and operates through three terminals. Terminal-1 is used mainly for domestic passengers and Terminal-3 is exclusively for international passengers. Terminal-2 is utilized for specific purposes such as during Haj, exclusively for Haj Pilgrimage. Terminal-3 is a huge building complex, from one end to another, there is a distance of about 2.7 kilometers on each floor. There are 3 functional runways, Runway-9/27 near Terminal-1, Runway-11/29 near terminal-3 and Runway 10/28 in between, opposite Terminal-2. Geographically, Terminal-3 and Terminal-2 are adjacent while Terminal-1 is about 6 kilometers away from the city side. The nearest major multispecialty hospital is about 10 kilometers away from the airport.


Existing Medical Facilities:


In view of the huge Terminal-3 building complex, there are three medical centres located strategically for easy and fast approachability. They are at Arrival Level (Close to VIP Gate No 1), Departure Level (Near International Departure Security Hold Area, Staff Entry Gate) and at Apron Level (Near International Pier-A6, Steel Gate No.10) for transit passengers. There is one medical centre at Terminal-1. A temporary medical centre is established at Terminal-2 as and when required.
One Medical Officer and two staff Nurse are present 24x7 in each medical center under the supervision of a Sr.Consultant. There is adequate administrative staff for administrative support.These medical centres are equipped with latest medical equipment and are functional 24x7.
Presently there are 04 ambulances, 02 on the city side and 02 on the airside. In an airport, the ambulances are required for the following purposes:


To attend to the emergency call within the airport premises. The IGI Airport is spread over an area of more than 37² There are multiple building complexes within the jurisdiction of IGI Airport.


To shift the patients to nearby hospitals.


Internal Shifting of stretcher cases.


On duty for VIP movement.


The integral part of various drills and exercises being regularly conducted at the airport.


In the period from August, 2010 to January 2015 a total of 20,656 patients were attended by the airport clinic. Out of this number, 3,358 were Internal Shifting of stretcher cases and 17,298 were patients attended and treated by the emergency medical team. Out of these 17,298 patients, 6,393 were medical emergencies and the rest 10,905 patients required OPD treatment. Out of these 6,393 medical emergencies, 1,324 patients required immediate hospitalization although only 514 could be shifted to hospital and rest 810 patients, after initial treatment, left against medical advice (LAMA). The rest 5,069 medical emergencies were treated and stabilized at the emergency medical centre at the airport itself. The emergency medical services also shifted 455 cases of air ambulances to hospitals and provided mandatory ambulance escort for VIP movement in the airport as per protocol. For Haj Pilgrimage, a special Emergency Medical Centre was established at Terminal-2. In the year 2011, 665and in the year 2012, 232HAJ patients were attended.
In the period from August 2010 to January 2015, a total of116 deaths were registered at the airport area. Majority of these were on-board deaths.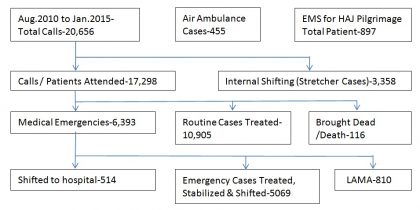 (It may be noted that during the period October 2012 to October 2014 a different medical vendor operated the Terminal-1 and hence the patient data of Terminal-1 is not available for these two years.)


The Types of Clinical Emergencies:


The types of medical emergencies received vary from minor headache, fever, alcohol intoxication, bruises to fractures, severe electrical burns, head injuries, acute abdomen, acute gastroenteritis, syncope, diabetic ketoacidosis, acute bronchial asthma including status asthmaticus, epileptic seizures, cerebrovascular accidents (strokes), myocardial infarctions and acute coronary syndromes etc. Even a child has been delivered inside the aircraft.
Describing about the individual medical emergency is beyond the scope of this article. However, to emphasise about the relevance of Emergency Medical Services at the Airport, it may be noted that during the period from August 2010 to December 2014, there were 25 instances of Post CPR successful resuscitation in cases of Cardiac Arrest (shockable rhythms)and Acute Respiratory Arrest. DC Cardioversion/External Pacing and ET Intubation were done along with Advance Life Support Drugs administration resulting in Return of Spontaneous Circulation (ROSC). These patients were immediately stabilized and shifted to hospital for further management. Pre-informed, the hospital was ready to receive these patients for definitive treatment. These emergency treatments were administered on-board (inside the aircraft), on the floor of Airport building (in full view of bystanders) and in the Airport Medical Centre. 21 out of these 25 cases were passengers and 10 were foreign nationals.
SCOPE OF IMPROVEMENT
A number of times the emergency medical team did not find the patient or the caller after reaching the call site. To prevent such incidences, the caller must identify himself and remain at the location to guide the medical team. The call must be authenticated by the Airport Terminal Staff who must also make sure that the medical team is supported appropriately.


Prevent Delay in Response:


The IGI Airport is huge and the main emergency medical center at Terminal-3 is located at arrival lounge. It takes minimum 15-20 minutes to reach to the farthest corner of the airport by a brisk walk. The medical staffs, carrying the emergency medical bag and equipment, have to cross CISF check-points which cause further delay.
It may be noted that in certain cases of a heart attack if medical help is provided within 3-5 minutes, a life can be saved¹⁰,¹¹,¹². In the IGI Airport itself, the medical team has successfully resuscitated about 25 such cases. This only requires a BLS (Basic Life Support) trained person to give cardiac message and artificial respiration as per protocol till the medical help arrives. A large number of lives have been saved like this in other countries where BLS is given by bystanders and availability of defibrillators (AED), with a positive neurological outcome, preventing anoxic brain injury¹³,¹⁴, ¹⁵.
Recommendations-Following suggestions:


Multiple Location of EMS-There is 04 Self-Medication Rooms located in the pier area, beyond security check booths in the SHA and more or less in the center of International and Domestic arrival and departure of the Terminal-3 building. These rooms should be manned 24x7, at least by nursing staff and equipped with lifesaving equipment like a defibrillator, suction apparatus, and oxygen cylinder etc. This will provide at least some initial treatment to the patient before the doctor arrives.


Transportation of Medical Team-01 buggy should always be stationed near the self-medication room to take the medical staff to the site of call.


Transportation of Patient- The airport/airline staff must provide the wheelchair/stretcher trolley immediately for shifting the patient to self-medication rooms, medical centers or ambulance.


The medical staff must be familiar with the topography of the airport, location of various bays and the internal architecture of the terminal building complex to reach the call site at a shortest possible time.


The CISF/Airport Security should be advised to cooperate during the movement of medical staff or patient without compromising on the security aspect.


Perform BLS till the Medical Team arrives-It is understood that the staff of the airport operator is provided BLS (Basic Life Support) training. They should start the BLS immediately.




Prevent Delay in shifting of a patient to the hospital:


If a passenger is to be shifted to hospital, his luggage has to be retrieved, his relations to be informed if he is alone (embassy in case of a foreigner) and immigration to be cleared and any other necessary formalities were done in case required. Further, no hospital will admit the patient unless he/she is accompanied by an attendant who will take care of the patient and his/her luggage. These formalities can be performed only by airport operator/concerned airlines.
Recommendations-If the patient is alone and he has to be shifted to a hospital for further treatment, the airport operator/concerned airline should provide a person to accompany the patient and remain at the hospital with him till his relations have arrived or in case of a foreigner, the concerned embassy has made the appropriate arrangement.


Strength- Presently there are 02 medical officers and 04 staff nurses at Terminal-3 and 01 medical officers and 02 staff nurse present 24x7 at terminal-1. This is inadequate at least for Terminal-3.


Recommendations-In view of the area of coverage at terminal-3 and incidences of multiple calls coming simultaneously, there must be 03 doctors and 06 nurses (04 nurses covering 04 self-medication rooms& 02 nurses at the two medical centers) present at Terminal-3, 24x7.


Qualification &Training-The airport medical staff must be ALS (Advance Life Support) trained and certificate holder with minimum 02 years' experience in the Department of Emergency & Trauma.


Language- The staff must be able to understand & speak English.


Presently there are only 04 ambulances for Terminal-3 and Terminal-1 both, which are inadequate for such a large area.
Recommendations-


The appropriate number of Ambulances-There must be 5+1 ALS (Advanced Life Support) ambulances at the airport, 03 ambulances at the airside and 02 ambulances on the city side with 01 ambulances for purpose of replacement if airport ambulance has gone for repair or diesel or taken a patient to a hospital.


The Ambulance Drivers should be BLS trained.


Regular monitoring of functional readiness of ambulances. There should be the appropriate SOP for the same.


Death at Airport:
With so much of population present, it is natural to encounter death at an airport. In the period till December 2015, more than 116 cases of deaths have been dealt at the Indira Gandhi International Airport at New Delhi, i.e. more than two deaths per month.
The incidence of deaths at the airport can broadly be divided into the following manner:


An elderly passenger boards the aircraft, destined for Delhi and expires on board. The body of the passenger is alighted at Delhi.


Any sick passenger, coming to Delhi for treatment or going from Delhi after treatment may expire at the airport building.


Any normal airport user, passenger, visitor or staff working at the airport premises may expire at the airport building.


Any person dying due to the accident at the airport premises or nearby area.


In all the above instances, it is the responsibility of the Airport Operator to inform and call the airport doctor on duty in order to provide the CPR if required or declare the individual as dead.In case of death, a death summary is prepared, medico-legal documentation is done andthe dead body is handed over to Delhi Police. As a matter of routine, all deaths at the airport are treated as Medico-legal. The police, after post-mortem, hands over the body to the relatives and the Death Certificate can be collected from concerned Municipality Office after 21 days.
The process of handling death at the airport is cumbersome, mainly due to:


Medico-legal formalities by the medical staff and police.


Delay in arrival of police (require temporary AEP).


Delay in arrival of Hearse Van (requires temporary AEP).


Shifting the body to its native place if the deceased is from out-station.


Procurement of Death Certificate.


Recommendations-


The airport and airline staff must act promptly with sympathetic attitude.


Prompt completion of the medicolegal formalities.


A prompt issue of temporary AEP for local Police & Hearse Van.


Increased coordination with the local Police.


CONCLUSION
The existing Emergency Medical Services at The Indira Gandhi International Airport (IGI) are good. A number of lives have been saved by prompt and competent intervention. However, there is enough scope to improve these facilities.The Indira Gandhi International Airport (IGI), New Delhi, is one of the busiest airports in the world.Provision of world class medical services at the airport is not only an essential ethical requirement but is also necessary for Brand India.In the above study, a number of weak areas have been identified and proposal to rectify them have been submitted. Medical Services as first contact service at the airport has the potential to showcase the efficiency levels, expected of 'Brand India'. The investment in this field should thus be valued for the sense of pride it is expected to generate for the country by providing world class medical services.
A concerted effort should be made to streamline the provision of Emergency Medical Services including handling of deaths and medical preparedness to manage any disaster at the IGI Airport. All the norms & guidelines laid down by ICAO (International Civil Aviation Organization) should be followed in letter & spirit to make the IGI Airport safe with world class medical facilities for airport users. A world class quality of the available emergency medical services at the airport shall enhance the trust and confidence of passenger/ tourist. This will not only help in improving the image of India but will also make it a prime destination for medical tourism.
Dr.P.K.Verma is MBA, M.D. in Aviation Medicine with vast experience in the field of Aviation Medicine.He has worked as Consultant – Aviation Medicine and Administration, Medanta – The Medicity & Chief Administrator-Airport project, Indraprastha Apollo Hospital, New Delhi.