EMA approves Fexinidazole as first oral treatment for sleeping sickness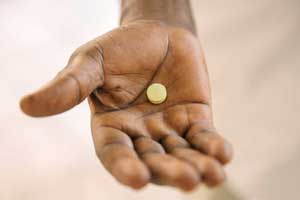 The European Medicines Agency (EMA) has recommended fexinidazole, the first all-oral treatment for sleeping sickness. This approval is a result of clinical trials led by the non-profit research and development organization DNDi and an application submitted by Sanofi, that has shown the drug to be efficacious for both stages of sleeping sickness. The decision paves the way for fexinidazole distribution in endemic countries in 2019.
Sleeping sickness, or human African trypanosomiasis (HAT), transmitted by the bite of a tsetse fly is usually fatal without treatment. It causes neuropsychiatric symptoms including aggression, psychosis, and a debilitating disruption of sleep patterns that have given this neglected disease its name. Around 65 million people living in sub-Saharan Africa are at risk of the disease.
Also Read: Study: Sleeping sickness not just a sleeping disorder
"I've dedicated my life as a doctor to sleeping sickness. An all-oral treatment has been a dream of mine for decades. Those affected are some of the most vulnerable and live in some of the most remote areas of the Congo, if not the world. They need a treatment that is safe, effective and simple," Dr. Victor Kande, who as Neglected Tropical Diseases Expert Advisor to the Ministry of Health of the Democratic Republic of Congo (DRC), was the principal investigator of the trials said in a press release.
"Less than ten years ago we were still treating this disease with an arsenic derivative that killed 5% of all patients. While current treatments are safe and effective, they require a patient to be hospitalized and pose a huge logistical burden on the health system. Fexinidazole comes as a simple pill: this is a huge leap in how we can tackle this deadly disease."
Also Read: Deadly sleeping sickness Trypanosomiasis can also be spread via skin
Fexinidazole is indicated as a 10-day once-a-day treatment for most common form of sleeping sickness, Trypanosoma brucei gambiense. Importantly, fexinidazole is the first all-oral treatment that works both for (i) the early stage of the disease as well as the (ii) second stage of the disease in which the parasites have crossed the blood-brain barrier, causing patients to suffer from neuropsychiatric symptoms.
During the clinical trials that enrolled 749 patients in the DRC and Central African Republic, fexinidazole showed high efficacy and safety in both stages of the disease, both in adults and children ≥ 6 years old and weighing ≥ 20 kg. Results showed that fexinidazole could, therefore, eliminate the need for systematic hospitalization and lead to a potential reduction in the number of lumbar punctures.
"Fexinidazole is an entirely new chemical entity that has been developed through an alternative non-profit R&D model. It is the first new chemical entity to be developed by DNDi," said Dr. Bernard Pécoul, DNDi Executive Director. "This therapeutic breakthrough is a testament to the unique partnership between DNDi and Sanofi to discover, develop, and register a treatment for a severely neglected disease."
Fexinidazole is a 5-nitroimidazole derivative that was rediscovered in 2005, through collaboration with the Swiss Tropical and Public Health Institute, during DNDi's search for compounds with anti-parasitic activity, after being developed and then abandoned for strategic reasons by Hoechst (now Sanofi) in the 1980s. In 2009, DNDi and Sanofi concluded a collaboration agreement for the development, manufacturing, and distribution of fexinidazole, with DNDi responsible for pre-clinical, clinical, and pharmaceutical development, and Sanofi for industrial development, registration, production, and distribution of the drug.
"Together with Ministries of Health in endemic countries we have shown it is possible to conduct high-quality trials in the most challenging settings," said Dr. Nathalie Strub-Wourgaft, DNDi Director of Neglected Tropical Diseases. "This is only the first step - we now need to ensure patients can access and benefit from this new drug."
Source : press release