Elobixibat- New treatment for chronic constipation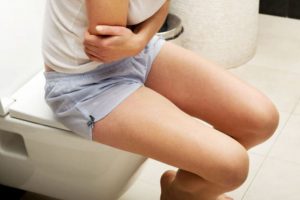 Elobixibat was found safe and effective to increase colonic bile acid concentrations in adult patients, thus accelerating colonic transit and reducing their chronic constipation, according to the results of two Phase III trials published in the journal THE LANCET Gastroenterology and Hepatology.
Chronic constipation is characterized by difficult, infrequent, or perceived incomplete evacuation of bowel movements. The symptoms of this common condition include having less than three bowel movements per week, straining, hard stools, incomplete evacuation and inability to pass stool.
Elobixibat is a once-daily, orally available constipation treatment. Elobixibat inhibits the bile acid transporter that regulates reabsorption of bile acids thereby increasing the flow of bile acids to the colon. The dual action of moisture secretion and bowel movement promotion by bile acids can facilitate defecation. Elobixibat is the world's first pharmaceutical product approved for marketing with the above action mechanism. Elobixibat was jointly developed by EA Pharma and Mochida under the same brand name "GOOFICE® 5mg Tablet", respectively, in Japan.
Prof Atsushi Nakajima and his associates conducted two phase 3 studies of patients aged 20–80 years in Japan with at least 6 months of chronic constipation including fewer than three spontaneous bowel movements per week. The first trial was a 2-week placebo-controlled, randomized, double-blind trial which included 133 Japanese patients with chronic constipation. Patients were orally administered 10 mg of elobixibat or placebo once daily for 2 weeks.
The study found that the primary outcome of the 2-week randomized trial was the change in the frequency of spontaneous bowel movements during week 1 of treatment.
The second trial was an open-label, 1-year study in which all patients received elobixibat which included 341 Japanese patients with chronic constipation. The initial dose was 10 mg once daily orally for 7 days. The dose was increased or decreased in the range of 5, 10 and 15 mg per day appropriately depending on the symptoms and given for 52 weeks.
Read Also
:
22 percent of Indian adults suffer from constipation: Abbott Gut Health Survey
The primary outcome of the 52-week open-label trial was safety (type, severity, and incidence of adverse drug reactions) at all times from treatment initiation.
It was found that the longer the dosing period, the higher patients' satisfaction related to defecation. The major side effects were abdominal pain, diarrhoea, lower abdominal pain and other gastrointestinal symptoms. A serious side effect namely an inguinal hernia was observed in 1 patient.
The study finally concluded that Elobixibat has positive results in alleviating constipation in the short-term, and was well tolerated with both short-term and long-term treatment.
For reference log on to https://doi.org/10.1016/S2468-1253(18)30123-7
Source : With inputs from the journal THE LANCET Gastroenterology and Hepatology