Electroacupuncture benefits patients with diabetic peripheral neuropathy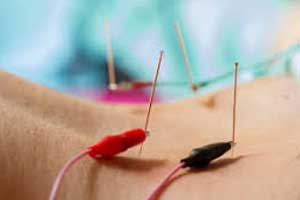 Electroacupuncture (EA) is safe and effective for the management of painful diabetic peripheral neuropathy (PDN) in the patients with type 2 diabetes (T2D), according to a recent study published in the journal Diabetes Care. The findings suggest that EA treatment provides a nonpharmacologic option for pain reduction in PDN.
Kyung-Min Shin, Clinical Medicine Division, Korea Institute of Oriental Medicine, Daejeon, South Korea, and colleagues conducted the study to evaluate the effectiveness and safety of electroacupuncture (EA) for the management of PDN in patients with T2D. This is the first multicenter randomized controlled trial conducted for this purpose.
For the study, the researchers recruited 126 patients from June 2014 to March 2015 with T2D, a 6-month or longer history of PDN, and a mean weekly pain score of 4 or higher on the Pain Intensity Numerical Rating Scale (PI-NRS). The patients were randomly assigned to a group receiving twice-weekly treatments of electroacupuncture or a control group for 8 weeks. Both groups also received an educational brochure on diet and lifestyle modification for diabetes.
The acupuncture treatments involved a mixed current of 2 Hz/120 Hz, delivered at 12 acupuncture points and 1 optional additional acupuncture point, established by the World Health Organization.
At the 8-week follow-up assessment, 9 participants in the electroacupuncture group and 19 in the control group had dropped out.
Also Read: Special eye examination to detect Peripheral Neuropathy in type 2 DM
The specific acupuncture treatment points in the study included bilateral Zusanli (ST36), Xuanzhong (GB39), Yinlingquan (SP9), Sanyinjiao (SP6), Taichong (LR3), and Zulinqi (GB41); the additional acupuncture point of Bafeng (EX-LE10) was also available as an option.
Key Findings:


In terms of the primary outcome of pain, measured by the PI-NRS score at the ninth week of follow-up, patients receiving electroacupuncture showed significantly greater improvement compared with the control group.


Of those in the treatment group, nine (15.52%) were responders, defined as achieving a reduction of 50% or greater on the PI-NRS, compared with just three (6.25%) in the control group.


Those receiving electroacupuncture also had significantly greater improvements in pain, as measured by the short-form McGill Pain Questionnaire; their sleep interference, which is a common problem with PDN, also improved, as did pain scores assessed by EuroQol-5 Dimensions, after 9 weeks.


As many as 82.5% in the electroacupuncture treatment group reported improvements in Patient Global Impressions of Change compared with 34.1% in the control group, and the improvement was maintained through 17 weeks.


There were no significant differences between the groups in terms of age, sex, duration of diabetes (12.53 years in the electroacupuncture group and 11.32 years in the control group), pain duration (electroacupuncture group, 3.81 years; control group, 3.23 years), and use of antidiabetes medication.


No safety issues were reported with electroacupuncture, and the two groups had an equal incidence of adverse events (n = 12) and serious adverse events (n = 3 each).


Patients in both groups were permitted to take rescue medication of acetaminophen 500 mg, with a maximum dosage of 3000 mg per day, but no other analgesic medication was allowed. The consumption of the medications did not differ throughout the study. The groups also remained on stable doses of their antidiabetes medications.
"The results of this study demonstrate that EA treatment is effective for reducing pain and improving sleep disturbance and quality of life in PDN. In addition, EA treatment was well tolerated and safe during this study," concluded the authors.
Source : With inputs from �Diabetes Care