Elective cesarean increases risk of early childhood obesity: JAMA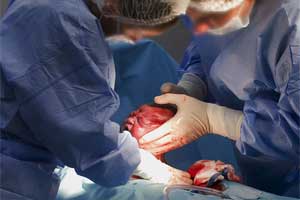 A child born through elective cesarean delivery is at increased risk of being overweight at 12 months of age, according to a prospective birth cohort study published in the journal JAMA.
The rates of global cesarean delivery (CD) have more than doubled in the past 2 decades, with an increasing contribution from elective CDs. CD has been linked to early childhood overweight and obesity, but limited studies have examined elective and emergency CDs separately.
Meijin Cai, Duke-NUS Medical School, Singapore, and colleagues conducted this cohort study to examine the association of elective or emergency CD separately with early childhood overweight risk.
For the purpose, the research team analyzed 727 mother-child pairs. They drew data from the Growing Up in Singapore Toward Healthy Outcomes (GUSTO) study, an ongoing prospective mother-child birth cohort study.
Elective CD was defined as a result of advanced planning because of, for example, maternal request, history of cesarean delivery, or maternal obesity.
Emergency cesarean section was defined as unplanned and/or a decision made during the 24 hours before delivery because of deteriorating maternal or fetal health. Vaginal delivery was the reference.
Key Findings:


Among 727 infants analyzed (51.2% [372] male), 30.5% (222) were born via CD, of which 33.3% (74) were elective.


Prevalence of at risk of overweight and overweight at age 12 months was 12.2% (89) and 2.3% (17), respectively.


Elective cesarean section delivery had twice the risk of overweight or being overweight in the child at 12 months of age after adjusting for maternal ethnicity, age, education, parity, body mass index, antenatal smoking, hypertensive disorders of pregnancy, gestational diabetes, and sex-adjusted birth weight–for–gestational age.


The association persisted after further adjustment for intrapartum antibiotics and first 6 months infant feeding, 2 potential mediators of early childhood overweight and obesity.


No significant associations were found for emergency CD.


"Choice of delivery mode may influence the risk of early childhood overweight. Clinicians are encouraged to discuss potential long-term implications of elective cesarean delivery on child metabolic outcomes with patients who intend to have children," write the authors.
"Separating elective procedures performed before the onset of labor from other cesarean deliveries can also provide insights into one of the proposed mechanisms underlying this association: differences in infant gut microbiome resulting from differences in exposure to maternal vaginal secretions." Caroline Mitchell, Harvard Medical School, Boston, Massachusetts, and Jorge E. Chavarro, Harvard School of Public Health, write in an invited commentary accompanying the study.
"Repeated surgical procedures are one of the primary drivers of high cesarean section rates, and if cesarean birth after labor — as happens in an emergency cesarean section — is protective for obesity, could encourage more physicians to offer women attempted vaginal delivery after a cesarean delivery [so-called vaginal birth after cesarean (VBAC)]," concluded the commentators.
For further reference follow the link:
10.1001/jamanetworkopen.2018.5025
Source : With inputs from JAMA