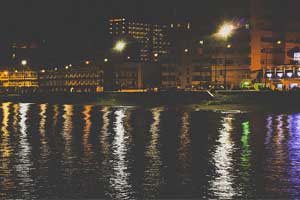 South Korea: Outdoor artificial nighttime light is increasingly recognized as a form of environmental pollution. A new study published in the journal Journal of Clinical Sleep Medicine has found an association between exposure to this artificial light at night and insomnia in older adults, indicated by their use of hypnotic drugs.
Excessive exposure to nighttime light also referred to as light pollution, be it from indoor or outdoor sources, has been associated with ill effects on human health due to disruption of the circadian rhythm. Jin-young Min and Kyoung-bok Min, from Seoul National University, Seoul, South Korea conducted this population-based cohort study in South Korea to assess the association between outdoor nocturnal lighting and insomnia in older adults.
The researchers used data from the 2002-2013 National Health Insurance Service-National Sample Cohort (NHIS-NSC), a population-based cohort in South Korea. The final study sample consisted of 52,027 adults who were 60 years of age or older, this excluded those with a diagnosed sleep disorder. About 60 percent of participants were female.
Exposure to light was based on satellite data provided by the National Centers for Environmental Information. The estimated light pollution level in each administrative district was matched with individuals' residential districts to determine an individual exposure level.
The usage data for zolpidem and triazolam –hypnotic drugs — were extracted from health insurance records. About 22 percent of study participants had prescriptions for hypnotic drugs.
Key Findings:
Increasing nighttime levels of artificial, outdoor light exposure, stratified by quartile, were associated with an increased prevalence of hypnotic prescriptions and daily dose intake.
Older adults exposed to higher levels of artificial, outdoor light at night were more likely to use hypnotic drugs for longer periods or higher daily dosages.
"This study observed a significant association between the intensity of outdoor, artificial, nighttime lighting and the prevalence of insomnia as indicated by hypnotic agent prescriptions for older adults in South Korea," said Kyoung-bok Min. "Our results are supportive data that outdoor, artificial, nighttime light could be linked to sleep deprivation among those while inside the house."
"Given the recent scientific evidence including our results, bright outdoor lighting may be a novel risk factor for prescribing hypnotic drugs," Min said.

"More studies and public policy initiatives are needed to define and minimize the adverse effects of light pollution on human health, noted the authors.
For further reference follow the link: http://dx.doi.org/10.5664/jcsm.7490