Elderberry syrup effectively controls cold and flu symptoms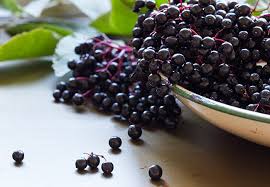 Elderberry syrup was found very effective on upper respiratory symptoms associated with the flu and common cold, according to a meta-analysis published in the journal Complementary Therapies in Medicine.
The first meta-analysis conducted by the Franklin Institute of Wellness, an integrative health postsecondary institution, on elderberry supplementation found that elderberry supplementation substantially reduces flu symptoms with effects far greater than previously recognized.
Read Also: Swine flu protection in kids: Flu shot or nasal spray?
Between 2006–2007, approximately 28.6% of outpatient visits with a diagnosis of the common cold were treated with antibiotics. The practice persists despite warnings from public health agencies that antibiotics are not beneficial for viral infections such as the common cold or influenza. This misuse of antibiotics contributes to the rise of antibiotic-resistant bacterial infections.
Elderberries contain many active chemicals, including anthocyanins which have been shown to boost immune function and exhibit anti-viral effects. Oral ingestion of elderberry results in detectable levels of these anthocyanins in blood plasma.
The purpose of the study was to quantify the effect size for elderberry supplementation for upper respiratory symptoms and to analyze moderator variables of vaccination status and underlying pathology that may influence that total effect size.
Dr. Jessie Hawkins, the institution's research director, said, "These findings are exciting. While elderberry syrup has become a household staple, studies on its effects have been small and are sparse. We are now able to quantify the effects of elderberry and to understand how these effects differ based on factors such as underlying pathology and vaccination status."
Read Also: Flu increases risk of complications and death in pregnant women : IDSA
The study provided evidence that elderberry supplementation at the onset of upper respiratory symptoms substantially reduced overall symptom duration as compared to a control group.
The authors concluded that the findings presented an alternative to antibiotic misuse for upper respiratory symptoms due to viral infections, and a potentially safer alternative to prescription drugs for routine cases of the common cold and influenza.
For full information log on to https://doi.org/10.1016/j.ctim.2018.12.004