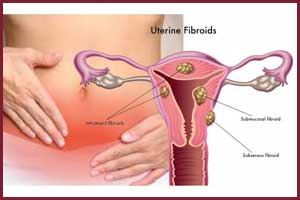 Elagolix, an oral gonadotropin-releasing hormone receptor antagonist, significantly reduced menstrual bleeding in women affected with Fibroids or uterine leiomyomas — most common uterine tumours, according to a new study.
The five-country study, published in the journal Obstetrics & Gynecology, found that Elagolix reduced bleeding in more than 90 percent of premenopausal women who had heavy menstrual bleeding associated with fibroid tumours – noncancerous growths of the uterus known as uterine leiomyomas that often appear during childbearing years.
Fibroid tumours can be associated with infertility, miscarriage, and early onset of labour and are the most common reason for hysterectomy worldwide. For women in their 40s and 50s, abnormal uterine bleeding also is the most common reason to see a gynaecologist, and fibroids are one of the most common causes of the symptom.
Surgery has traditionally been the gold standard for treatment, resulting in hysterectomy or myomectomy, so a nonsurgical option offers new hope, Dr. Carr said in a press release. "There are no orally approved drugs to decrease bleeding and prevent anemia in women with these tumors. Now, there is a medical option for this devastating disease that affects up to 75 percent of women."
Bruce R. Carr, Professor of Obstetrics and Gynecology, University of Texas Southwestern Medical School, and colleagues evaluated Elagolix in premenopausal women with heavy menstrual bleeding (greater than 80 mL per month) associated with uterine leiomyomas. The drug was evaluated in cohorts 1 (300 mg twice daily) and 2 (600 mg daily) with four arms per cohort: placebo, elagolix alone, elagolix with 0.5 mg estradiol/0.1 norethindrone acetate, and elagolix with 1.0 mg estradiol/0.5 mg norethindrone acetate.
For the purpose, the researchers enrolled 571 women from April 8, 2013, to December 8, 2015, 567 were randomized and treated , and 80% and 75% completed treatment, respectively.
A sample size of 65 per group was planned to compare elagolix with add-back to placebo on the primary endpoint: the percentage of women who had less than 80 mL menstrual blood loss and 50% or greater reduction in menstrual blood loss from baseline to the last 28 days of treatment.
Key Findings:

 Primary endpoint responder rates in cohort 1 (cohort 2) were 92% (90%) for elagolix alone, 85% (73%) for elagolix with 0.5 mg estradiol/0.1 mg norethindrone acetate, 79% (82%) for elagolix with 1.0 mg estradiol/0.5 mg norethindrone acetate, and 27% (32%) for placebo.
Elagolix groups had significant decreases compared with placebo in lumbar spine bone mineral density, which was attenuated by adding 1.0 mg estradiol/0.5 mg norethindrone acetate.
Prescribing hormone therapy together with the new drug prevented estrogen-deficiency induced side effects like hot flashes and bone loss.
"Elagolix with and without add-back significantly reduced menstrual blood loss in women with uterine leiomyomas. Add-back therapy reduced hypoestrogenic effects on bone mineral density," concluded the authors.
For further reference log on to 10.1097/AOG.0000000000002933