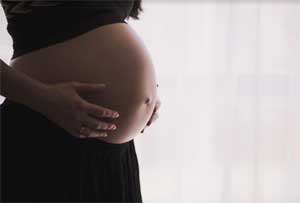 No teratogenic effect found in pregnant women when treated with anti-tumour necrosis factor certolizumab pegol (CZP) as compared with the general population, nor there was an increased risk for fetal death, according to a recent study published in Arthritis & Rheumatism. Certolizumab pegol (CZP), a PEGylated, Fc‐free anti‐TNF approved for treatment of rheumatic diseases and/or Crohn's disease, has minimal to no active placental transfer.
Certolizumab pegol binds to soluble and membrane-bound TNF-α, inhibiting the proinflammatory actions of the cytokine. Unlike other TNFi, owing to its lack of the Fc component, it is incapable of fixing complement or binding to Fc receptors
Megan E. B. Clowse and his associates conducted a study to evaluate pregnancy outcomes in women receiving CZP, especially those with early pregnancy exposure.
Prospective and retrospective data on maternal CZP exposure were extracted from the UCB Pharma safety database. Numbers of live births, miscarriages, elective abortions, stillbirths, and major congenital malformations were ascertained.
The study found that out of 1137 maternal CZP‐exposed prospective pregnancies, 528 (including 10 twin pregnancies) had 538 known outcomes: 459 live births (85.3%), 47 miscarriages (8.7%), 27 elective abortions (5.0%), and 5 stillbirths (0.9%). There were 8 major congenital malformations (1.7%) among the 459 infants. First-trimester exposure occurred for 367/452 (81.2%) pregnancies resulting in 459 live births. Exposure during all 3 trimesters occurred for 201/452 (44.5%) pregnancies.
Common indications among women exposed to CZP with known pregnancy outcomes were Crohn disease (n=195) and rheumatic diseases (n=301), including rheumatoid arthritis (n=235), ankylosing spondylitis/axial spondyloarthritis (n=45), psoriatic arthritis (n=18), and juvenile idiopathic arthritis (n=5).
The study concluded that pregnancy outcomes do not indicate a teratogenic effect of CZP, compared to the general population, nor an increased risk of fetal death. The data are reassuring for women of childbearing age considering treatment with CZP.
For more reference log on to: https://doi.org/10.1002/art.40508