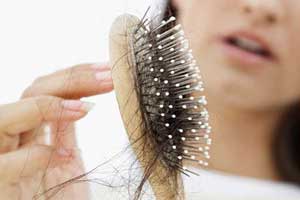 People often inquire about the role of minerals and vitamin supplements as a means for the prevention of hair loss. Owing to the enormous and conflicting evidence that exists on this subject, answering these queries is frequently challenging. Now a new study published in the journal Dermatology and Therapy finds that micronutrients such as minerals and vitamins play an important, but not an entirely clear role in the development of normal hair follicle and immune cell function. Deficiency of such micronutrients may represent a modifiable risk factor associated with the development, prevention, and treatment of alopecia.
There are several reasons to suspect a role for micronutrients in non-scarring alopecia. "Micronutrients are major elements in the normal hair follicle cycle, playing a role in cellular turnover, a frequent occurrence in the matrix cells in the follicle bulb that are rapidly dividing. Management of alopecia is an essential aspect of clinical dermatology given the prevalence of hair loss and its significant impact on patients' quality of life," explain the authors.
Androgenetic alopecia (AGA), telogen effluvium (TE) are two common types of hair loss. Studies show that supplementing the diet with low levels of vitamin D can improve symptoms of these diseases.
Studies show that too much vitamin A can contribute to hair loss, as can too much selenium, although more studies are needed to establish the latter relationship.
Alopecia areata (AA) occurs when the immune system attacks the hair follicle. Studies have shown a relationship between AA and low vitamin D levels. Vitamin D should be supplemented if levels are low. However, more studies are needed to determine the effect of iron and zinc supplementation on AA patients.
Iron, vitamin D, folate, vitamin B12, and selenium are vitamins and minerals that may be involved in hair graying/whitening during childhood or early adulthood. Supplementing these deficient micronutrients can improve premature graying.
"Given the role of vitamins and minerals in normal hair follicle development and in immune cell function, large double-blind placebo-controlled trials are required to determine the effect of micronutrient supplementation on hair growth in those patients with both micronutrient deficiency and non-scarring alopecia to establish any association between hair loss and micronutrient deficiency," concluded the authors.
For further reference follow the link: https://doi.org/10.1007/s13555-018-0278-6