Early switch from breastfeeding leads to stunted growth, finds study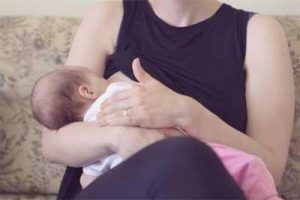 According to a new study, Early switch from breastfeeding leads to stunted growth.
"The WHO recommends exclusive breastfeeding (EBF) up to 6 months of age followed by the introduction of safe and appropriate foods for this age, maintaining breastfeeding for 2 years or beyond," according to the researchers.
The feeding practices that fall short of recommendations of the World Health Organization (WHO), particularly regarding breastfeeding, were associated with stunting in children. Stunted growth is the most common manifestation of malnutrition in México, therefore breastfeeding, and an adequate introduction of complementary feeding with dietary diversity can avoid this. Also, there is a need for nutrition education interventions targeted at mothers in the rural population, suggests the study.
Dr.Jessica Zaragoza Cortes and associates carried out a study to characterize the feeding practices in children 1-24 months of age in rural communities of Hidalgo and define their relationship with stunting.
n the study a 24-hour recall was used to obtain information. Z-scores for length-for-age (ZLA), complementary feeding (CF) and minimal dietary diversity (MDD) were determined. The sample was divided into breastfed and not breastfed children
The cross-sectional study sampled 189 mother-child dyads to understand the feeding practices and their association with stunting in children aged 1–24 months (mean age 10.5 months, 59 per cent girls) in rural communities of Mexico. In general, among children aged 1–6 months old, 37 per cent were exclusively breastfed, while 16 per cent were partially breastfed and 6 percent received infant formula.
When analysed by specific months, a trend of declining breastfeeding was revealed after the first month, despite WHO recommendation to maintain breastfeeding for at least 2 years. Among infants one month of age, 73 percent received EBF, but the rate dropped to only 30 percent in infants aged 2 months.
The reduction in EBF starting from the second month of life was accompanied by early introduction of complementary feeding close to the third month (57 percent).
The researchers also found that 10.1 percent of the children in the total sample had stunted growth. Of note, the proportion of non-breastfed children with stunting was double that of breastfed children (27.5 percent vs 12.0 percent; p<0.03).Furthermore, mean Z-scores for length-for-age indicated a trend towards increasing stunting with age, with a score of -0.463 for younger infants aged 1–6 months, -0.669 for infants aged 7–12 months, and -0.985 for infants aged 13–24 months (p<0.05).
"This study was able to identify that stunting becomes evident in the fourth month of age, a problem that in our study corresponded graphically to the month of a decline of early breastfeeding and the early introduction of complementary feeding in the third month of age," observed the researchers.
"It is important to point out that the problem with introducing food at an early age (under 4 months) is that it favours a reduction in maternal milk consumption. With food, a child becomes satiated more quickly, which impedes reaching nutritional goals," they explained.
The researchers concluded that the feeding practices of most mothers did not meet WHO recommendations. It is necessary to carry out nutrition education interventions aimed at mothers in rural population.
Source : Nutricion Hospitalaria