Early Renal Replacement Therapy does not improve outcomes in Septic Shock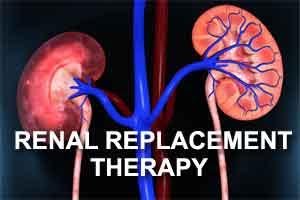 Early renal replacement therapy (RRT) initiation strategy was not associated with any improvement of 60-day mortality in patients with severe acute kidney injury and septic shock or acute respiratory distress syndrome (ARDS),finds the post hoc analysis of AKIKI (Artificial Kidney Initiation in Kidney Injury) trial published in the American Journal of Respiratory and critical care medicine.
Renal replacement therapy (RRT) is a therapy that replaces the normal blood-filtering function of the kidneys. It is used when the kidneys are not working well, which is called renal failure and includes acute kidney injury and chronic kidney disease.
Stephane Gaudry and his associates conducted a study to examine the effect of an early compared with a delayed RRT initiation strategy on 60-day mortality according to baseline sepsis status, ARDS status, and severity.
A total of 619 patients were included for study out of which 348 (56%) had septic shock and 207 (33%) had ARDS.
Read Also:
Trimethoprim use in UTI has greater risk of acute kidney injury in elderly : BMJ
Key Findings:


No significant influence of the baseline sepsis status, baseline ARDS status and baseline severity scores on the comparison of 60-day mortality according to RRT initiation strategy.


A delayed RRT initiation strategy allowed 45% of patients with septic shock and 46% of patients with ARDS to escape RRT.


Urine output was higher in the delayed group. Renal function recovery occurred earlier with the delayed RRT strategy in patients with septic shock or ARDS.


Time to successful extubation in patients with ARDS was not affected by RRT strategy.


Acute respiratory distress syndrome (ARDS) is a condition occurring in critically ill or critically wounded patients characterized by widespread inflammation in the lungs. ARDS is a clinical condition triggered by various pathologies such as trauma, pneumonia, and sepsis. In this, the air sacs in the lungs are filled with sufficient fluids which lower the amount of oxygen or increases the amount of carbon dioxide in the bloodstream. As a result, the organs are deprived of sufficient oxygen leading which may ultimately lead to organ failure.
For reference log on to https://doi.org/10.1164/rccm.201706-1255OC
Source : With inputs from American Journal of Respiratory and Critical Care Medicine