Early endovenous ablation leads to faster healing of venous ulcers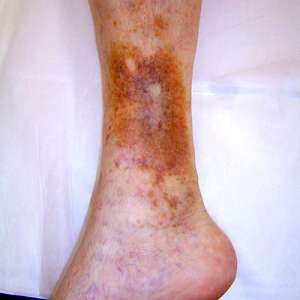 Treating leg ulcers within two weeks by closing faulty veins improves healing by 12 percent compared to standard treatment, suggests new findings.Patients who received varicose vein treatment within two weeks, their ulcer healed in 56 days, compared to 82 days in the group whose treatment was delayed. Early endovenous ablation of venous ulcers leads to faster recovery improves healing rates and saves patients from serious complications such as amputation.
The research was done by Professor Alun Davies and his associates and they found that after 24 weeks, the ulcer healing rates were 85.6 percent in the group who received rapid treatment, compared to 76.3 percent in the group who received delayed treatment.
Nearly 500 adults with open venous leg ulcers were randomized to receive compression therapy plus early endovenous ablation of superficial venous reflux (within 2 weeks) or compression with the option of deferred endovenous ablation at 20 centres across the UK.In the trial randomly half of the patients received treatments within two weeks to tackle varicose veins and the remaining half of patients received treatment to tackle varicose veins after their ulcer had healed, or after six months if their ulcer was still present. The patients were tracked over the course of a year All patients were asked to wear compression stockings, which squeeze the blood back up the leg.
Professor Alun Davies said: "Leg ulcers can significantly impact on a patient's quality of life and in severe cases can lead to someone losing part of their limb. They also represent a huge cost to the NHS. However, at the moment, most patients are offered only compression stockings without being referred on for treatment that tackles root of the problem - the faulty vein."
He added that until now there has been no robust trial to assess whether treatments to close the vein are effective.
"With this trial we have shown that by intervening early you improve the healing of the leg ulcer, and help a patient recover quicker. We recommend that patients are referred to a vascular clinic upon diagnosis with a venous ulcer, to see if they would be suitable for early treatment."
The authors acknowledged that more research is required in leg ulcer treatment especially treatment pathways.
The study was published in the journal New England Journal of Medicine.
Source : With Inputs from NEJM