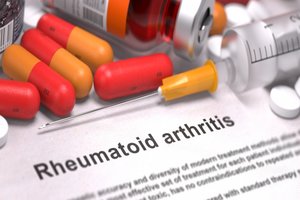 Early DMARD therapy is linked to a better outcome in RA, according to a new study.
 The study presented at the 2018 American College of Rheumatology and Association of Rheumatology Health Professionals (ACR/ARHP) Annual Meeting in Chicago, Illinois, has found that early initiation of disease-modifying antirheumatic drug (DMARD) therapy is associated with a greater improvement in rheumatoid arthritis (RA) disease activity.
It has further found that initiation of disease-modifying antirheumatic drug (DMARD) therapy within 6 months of symptom onset was associated with a greater reduction in rheumatoid arthritis (RA) disease activity compared with later initiation.
Maya Buch, Professor of Rheumatology Honorary Consultant, Leeds Institute of Rheumatic and Musculoskeletal Medicine, University of Leeds, and colleagues reported a found association between modified vascular function abnormalities and the introduction of DMARD therapy in patients with RA. The findings led the team to believe a focus on treatment strategy, rather than disease activity, is more indicative of aortic distensibility (AD) improvement.
Also Read: Patients with Silicone breast implants at increased risk of rheumatoid arthritis
For the study, the researchers retrospectively reviewed data from a single-site cohort of DMARD-naïve patients with RA for whom baseline and 6-month follow-up multidimensional health assessment questionnaire (MDHAQ) scores were available. Patients were classified as "no delay" (<6 months) or "delay" (>6 months) based on time of DMARD therapy initiation relative to symptom onset. Disease duration was described as time from symptom onset to baseline visit at the rheumatology clinic.
The cohort comprised 74 patients, of whom 33 (45%) initiated DMARD therapy within 6 months of symptom onset and 41 (55%) initiated therapy beyond 6 months. Median symptom duration at baseline visit was by definition significantly greater in patients who had a delay in initiation (23 vs 2.2 months).
Also Read: New drug effective for treatment of rheumatoid arthritis-The Lancet
Key Findings:
Both groups experienced improvements in disease activity during the course of the study.
Self-administered RA Disease Activity Index joint counts improved significantly in each group, with greater improvements observed in the no-delay group (−46%) compared with the delay group (−31%).
Clinically significant improvements were observed in physical function and patient global assessment scores in both groups, with more significant changes observed in the no-delay group.
Routine assessment of patient index data also improved in both groups at follow-up, with greater improvement observed in the no-delay vs the delay group (−39% vs −29%).
These data support the efficacy of DMARD treatment in disease activity reduction, with particular improvements seen with early initiation. As such, this study emphasizes the important role of early referral and treatment for patients with RA.
"DMARD therapy has a significant effect on vascular function abnormalities when introduced to the treatment regimen of patients with early RA," concluded the authors.