................................ Advertisement ................................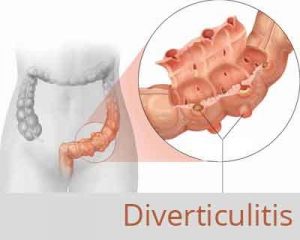 SAGES and EAES have released guidelines for the management of acute Diverticulitis at Diverticulitis Consensus Conference (DCC). This joint EAES and SAGES consensus conference updates clinicians on the current evidence and provides a set of recommendations that can guide clinical AD management practice. Systematic reviews of the literature were conducted across six AD topics by an international steering group including experts from both societies. Consensus statements and recommendations were generated, and the quality of the evidence and recommendation strength rated with the GRADE system.
Following are the major recommendations: 
A focused history and physical exam are recommended for all patients with suspected diverticulitis.
We recommend that CRP be included in the laboratory evaluation of a patient with acute diverticulitis.
We recommend selective imaging in patients with pain localized to the left lower quadrant, absence of vomiting, a CRP > 50 mg/L, and/or a prior history of acute diverticulitis.
Our expert group rated this high-quality evidence with a strong recommendation for using CT scan as the recommended modality of choice. Alternatively, ultrasound at centers with expertise in that modality could be used.
Patients with risk factors for recurrent diverticulitis should be counselled regarding an elevated risk for future episodes and the possible long-term treatment implications.
A trial of non-antibiotic therapy can be considered with appropriate follow-up in select immunocompetent individuals presenting with uncomplicated acute diverticulitis.
Immunocompetent individuals presenting with uncomplicated acute diverticulitis and mild symptoms may be managed in the outpatient setting.
Our expert group did not support the use of 5-ASA to prevent recurrent diverticulitis or improve chronic gastrointestinal symptoms among patients successfully treated for an episode of uncomplicated acute diverticulitis.
Our expert group recommends against routine colonic evaluation after successfully treated uncomplicated acute diverticulitis unless high-risk features are present.
For all abscesses, we recommend antibiotics should be considered first-line treatment.
Our expert panel recommended that antibiotic use covers gram-negative and anaerobic bacteria based on institutional protocols and antibiotic stewardship principles.
Our expert panel recommends that percutaneous drainage be considered for larger abscesses, those that do not resolve on antibiotics, and/or in the presence of patient deterioration.
In stable patients diagnosed with free air, we recommend initial non-operative management.
Lavage may be considered in selected Hinchey III patients by surgeons with appropriate expertise and the ability to closely watch for and manage complications. The lower stoma rate should be weighed against the higher risk of complications and re-intervention.
In Hinchey Ib-II abscesses or presence of peri-colonic air cases, acute surgery should be reserved to patients who have exhausted non-operative options without improvement of symptoms or remain systemically unwell.
When there is clinical and/or radiological suspicion of Hinchey III or IV diverticulitis, acute surgery should be considered.
We recommend that following a single episode of successfully treated Hinchey I/II acute diverticulitis, surgery should not be routinely offered solely to avoid future episodes.
 In immunosuppressed patients with complicated diverticulitis, we recommend early elective resectional surgery.
 We recommend clinicians consider diabetes as a risk factor for complicated acute diverticulitis, but non-operative management remains appropriate.
 Patients with perforated diverticulitis with diffuse peritonitis (Hinchey III and IV) should undergo emergent surgical intervention.
 When resection is indicated, we recommend consideration of laparoscopic approach for perforated diverticulitis in the appropriate clinical setting.
 In the appropriate clinical setting, we recommend consideration of sigmoid resection with primary anastomosis and proximal diversion over HP in patients with Hinchey III/IV diverticulitis.
Hartmann's procedure is the preferred operation for hemodynamically unstable patients with perforated diverticulitis.
We recommend in unstable patients with perforated diverticulitis damage control strategies (resection without anastomosis, temporary abdominal closure and second look) be considered.
In the setting of an emergency HP, we recommend limiting the resection to the acutely affected segment and not mobilizing the splenic flexure unless necessary.
A laparoscopic approach is recommended in elective surgery for diverticular disease, when feasible.
Consideration should be given to delaying elective interval sigmoid resection for minimum 6 weeks from the most recent episode of acute diverticulitis.
We recommend the utilization of a selective strategy based on imaging and patient characteristics for placement of prophylactic ureteral stents prior to elective surgery for diverticulitis.
While the evidence specific to diverticular disease is limited, evidence exists in the setting of elective colorectal surgery to recommend the use of an isosmotic mechanical bowel preparation with oral antibiotics prior to surgery.
Preservation of the inferior mesenteric artery should be considered to preserve vascular supply of the anastomosis (so long as this does not compromise formation of a tension-free anastomosis).
Every effort should be made to construct a primary anastomosis in the elective setting for complicated and uncomplicated diverticulitis.
Although routine mobilization of the splenic flexure is not supported by evidence, we recommend that the descending colon should be fully mobilized to provide sufficient colonic length to form a tension-free anastomosis.
We recommend transecting the colon proximal to the phlegmon in an area without gross evidence of inflammation. No attempt should be made to resect every diverticulum proximal to the phlegmon.
Distal transection at or below the rectosigmoid junction (at the level of the sacral promontory where the tenia coli coalesce) is recommended to decrease the risk of recurrent diverticulitis.
We recommend the use of either a hand-sewn or stapled anastomosis based on individual surgeon preference.
While there was no evidence specific to diverticular disease, based on the evidence from the general colorectal population we recommend use of an air leak test to evaluate the integrity of the colorectal anastomosis and prevent anastomotic leak.
There is no evidence to support routine use of abdominal/pelvic drain in elective surgery for diverticulitis. We recommend the decision to place an abdominal or pelvic drain following elective resection for complicated diverticular disease be left to the surgeon's discretion.
We recommend elective resection in patients with symptomatic diverticular disease that is negatively impacting the quality of life.
We recommend a laparoscopic approach for elective resection of diverticular disease when feasible to improve short-term functional outcomes and quality of life.
A laparoscopic approach is recommended for the elective resection of diverticular disease in obese patients, when feasible.
When considering elective resection of complicated diverticular disease in the immunocompromised patient, we recommend a lower threshold for stoma formation.
For more details click on the link: https://doi.org/10.1007/s00464-019-06882-z
................................ Advertisement ................................
Author Details
Hina Zahid Joined Medical Dialogue in 2017 with a passion to work as a Reporter. She coordinates with various national and international journals and association and covers all the stories related to Medical guidelines, Medical Journals, rare medical surgeries as well as all the updates in the medical field. Email: hina@medicaldialogues.in. Contact no. 011-43720751
To know about our editorial team click here
................................ Advertisement ................................