E-cigarette use may increase risk of Heart attack: Journal of the American Heart Association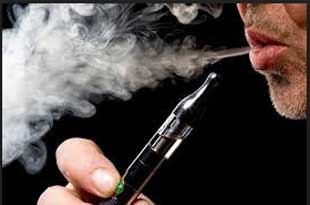 E-cigarette use may increase risk of Heart attack, finds a new study. Effect of e‐cigarettes are similar to a conventional cigarette and dual use of e‐cigarettes and conventional cigarettes at the same time is riskier than using either product alone.
Patients who smoked electronic cigarettes every day or some days had an increased risk for heart attack. The study has been published in the Journal of the American Heart Association.
In the United States, cardiovascular disease is responsible for about one-third of smoking-associated deaths in smokers, and secondhand smoke causes approximately 34,000 early deaths from heart disease each year in nonsmokers. Keeping this in view E‐cigarettes are popular for smoking cessation and as an alternative to combustible cigarettes and their use has skyrocketed.
Dr Dharma N. Bhatta, at the Cardiovascular Research Institute, School of Medicine at University of California, San Francisco, and colleagues analyzed data from the Population Assessment of Tobacco and Health (PATH) wave 1 and wave 2. The participants of the study were categorized based on their response to questions regarding e-cigarette and combustible cigarette use: every-day smokers, some-day smokers, former smokers and never smokers. They were asked whether a health professional has ever told them that they had a heart attack, in addition to other questions focused on high BP, high cholesterol and diabetes.
The researchers found increased odds for MI in participants who were every-day (adjusted OR = 2.25; 95% CI, 1.23-4.11) and some-day e-cigarette users (aOR = 1.99; 95% CI, 1.11-3.58), both of which had a significant dose-response (P < .0005).The also found that compared with participants who never smoked cigarettes or used e-cigarettes, those who used both types of cigarettes had an OR of 6.64 for having an MI or heart attack.
"E-cigarettes should not be promoted or prescribed as a less risky alternative to combustible cigarettes and should not be recommended for smoking cessation among people with or at risk of myocardial infarction," The researchers concluded.
In order to minimize the potential public health harm from e-cigarette use, the US Food and Drug Administration, as well as state and local agencies, will need to engage in effective regulatory actions to discourage youths' use of e-cigarettes and prevent the transition from e-cigarettes to other combustible tobacco products.