E-cigarette liquid laced with Erectile dysfunction drugs: FDA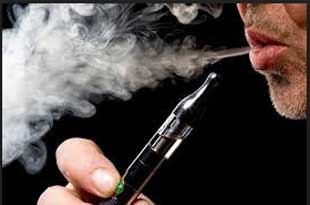 The U.S. Food and Drug Administration has issued a warning to the e-cigarette maker HelloCig Electronic Technology over concerns of selling its e-cigarette liquids containing the prescription erectile dysfunction drugs sildenafil (Viagra) and tadalafil (Cialis), leading the FDA to determine that the products are unapproved new drugs.
Sildenafil and tadalafil are the active pharmaceutical ingredients in FDA-approved prescription drugs used to treat erectile dysfunction. These FDA-approved prescription drugs are not approved for inclusion in e-liquid products sold over the counter and are therefore being sold illegally. In addition, the company is marketing other e-liquids used in e-cigarettes in ways that convey and mislead consumers into believing that the FDA has approved these tobacco products when it has not.
Also Read: Daily use of e-cigarette doubles risk of heart attack
"There are no e-liquid products approved to contain prescription drugs or any other medications that require a doctor's supervision. Prescription drugs are carefully evaluated and labeled to reflect the risks of the medications and their potential interactions with other medicines, and vaping active drug ingredients is an ineffective route of delivery and can be dangerous. There are no e-liquids that contain prescription drugs that have been proven safe or effective through this route of administration," said FDA Commissioner Scott Gottlieb, said in the FDA press release. "This action is part of FDA's broader effort to regulate the safety of vaping products, and crack down on misleading claims and illegal and dangerous e-liquids that may entice youth or put consumers at risk."
A press release states that since the prescription medications are not approved for inclusion in e-liquid products sold over the counter, the FDA has determined that the e-cigarette liquids are unapproved drugs and that they are being sold illegally.
Also Read: E-cigarette flavouring chemicals found toxic to white blood cells
Based in China, the company states on its website that HelloCig was founded in 2006 "with an intent mission to provide the most premium of electronic cigarette brands and Wholesale Premium E-Juice with the most comprehensive choices and the lowest prices to the masses."
The website lists dozens of vaping liquid flavorings for sale under the banner "HelloCig Healthcare Flavor," including "E-Cialis HelloCig E-Liquid."
The FDA has requested that the company respond within 15 working days on how it intends to address the agency's concerns. Failure to correct violations may result in further action such as seizure or injunction.
Source : press release