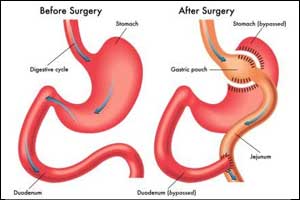 There is mounting evidence, derived from mechanistic studies, RCTs, and other high-quality studies that there is weight loss independent antidiabetic effects of gastrointestinal surgery. Additionally, there appears to be no relation between the positive metabolic outcomes to baseline BMI. The Diabetes Surgery Summit (DSS) in partnership with Diabetes UK has published a summary of the recommendations and guidelines from the 2016 Metabolic Surgery in the Treatment Algorithm for Type 2 Diabetes: A Joint Statement by International Diabetes Organizations, in 2nd Diabetes Surgery Summit.
Main recommendations:
Regardless of the level of glycaemic control, metabolic surgery should be a recommended option to treat T2D in appropriate surgical candidates with class III obesity (BMI ≥ 40 kg/m2) as well in patients with class II obesity (BMI 35.0–39.9kg/m2) with inadequately controlled hyperglycemia.
Metabolic surgery should also be considered in patients with class I obesity (BMI 30.0–34.9 kg/m2) and inadequately controlled hyperglycemia despite optimal medical treatment by either oral or injectable medications.
All BMI thresholds should be reconsidered depending on the ancestry of the patient. For example, BMI values for Asians should be reduced by 2.5 kg/m2
Contraindications for metabolic surgery include diagnosis of type 1 Diabetes, current drug or alcohol abuse; uncontrolled psychiatric illness; lack of comprehension of the risks/benefits, expected outcomes, or alternatives; and lack of commitment to nutritional supplementation and long-term follow-up required with surgery.
Evidence shows a gradient of efficacy among the main four accepted surgical approaches, as follows: Biliopancreatic Diversion (BPD)> Roux-en-Y Gastric Bypass (RYGB)> Vertical Sleeve Gastrectomy (VSG)> Laparoscopic Adjustable Gastric Banding (LAGB). The opposite gradient exists for the comparative safety of these operations.
RYGB appears to have a more favorable risk-benefit profile among the 4 accepted operations, however, the procedure choice should be based on the evaluation of the risk-to-benefit ratio in individual patients.
Major peri-operative complications are uncommon, minor complications occur in up to 15%. Long-term surgical complications are not limited to internal hernia/small bowel occlusion (RYGB, BPD), marginal ulcers and anastomotic stricture (RYGB) and band slippage/erosion (LAGB), less common complications include anaemia, bone fractures and postprandial hypoglycaemia (+RYGB), steatorrhea/diarrhea and protein-calorie malabsorption (++BPD).
Surgical and nutritional evaluations should be included in the postoperative follow-up evaluations at least every 6 months, and more often if necessary, during the first 2 postoperative years and at least annually thereafter.
For further reference log on to :
Surgical Treatment for Type 2 Diabetes: Summary of Recommendations and Guidelines from the 2nd Diabetes Surgery Summit (DSS-II). Diabetes UK. 2017 Oct 10.
https://www.diabetes.org.uk/resources-s3/2017-10/Bariatric%20Surgey%20Guidelines.pdf?_ga=2.265303247.1716858849.1506932008-94916137.1493891358