Kineret given within 6 hrs improves outcome in ischemic stroke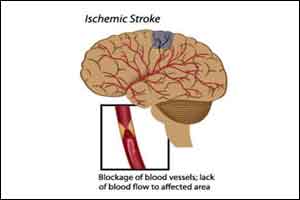 Stroke is one of the most common causes of disability in adults and a leading cause of death worldwide and it occurs when poor blood flow to the brain results in cell death. There are two main types of stroke ischemic, caused by lack of blood flow, and haemorrhagic, caused by bleeding in the brain.Dr.Craig J. Smith from the Greater Manchester Comprehensive Stroke Centre, Salford Royal NHS Foundation Trust, United Kingdom and associates conducted a double-blind trial to investigate whether subcutaneous administration of an anti-inflammatory drug IL-1Ra (Kineret)reduces the peripheral inflammatory response in acute ischemic stroke.They found that Kineret, a drug originally licensed for treating rheumatoid arthritis when given to patients in the early stages of an ischaemic stroke reduces harmful inflammation.The findings of the research have published their findings in the journal Stroke.
The protein Interleukin-1 (IL-1), part of the body's defences increases inflammation and brain injury following a stroke.Kineret works by blocking the actions of IL-1 which is released into the body following injury caused by a stroke and reduces inflammation.
The researchers in a randomized controlled Phase 2 Trial enrolled 80 Participants in the study and gave them six doses of the drug or placebo over three days. The first dose was given within 6 hours after the onset of the stroke symptoms.They measured inflammatory markers in the blood before treatment began and during study treatment.
Professor Craig Smith said: "Though Strokes affect different people in different ways, for many people they have a devastating effect on their long-term health and well-being."Excessive inflammation after a stroke is known to be harmful and predicts a worse outcome in patients."We have shown that Kineret injections, started within six hours of stroke onset significantly reduces levels of inflammation in patients."
The researchers concluded that IL-1Ra(Kineret) reduced plasma inflammatory markers which are known to be associated with worse clinical outcome in ischemic stroke. Subcutaneous IL-1Ra (Kineret)is safe and well tolerated. However, further experimental studies are required to investigate the efficacy and possible interactions of IL-1Ra with thrombolysis.
The drug can be given quickly intravenously via injection or via a drip in ambulances on the way to a hospital. The brain loses around 2 million brain cells every minute during a stroke, so this could provide a major step forward in the fast and effective treatment of stroke.The research team have also shown that Kineret reduces inflammation and is safe in patients of subarachnoid haemorrhage.The drug is going to be tested in patients with intracerebral haemorrhage in coming times.
For further reference log on to :
http://stroke.ahajournals.org/content/early/2018/03/21/STROKEAHA.118.020750