Terazosin- Drug for treating enlarged prostate also beneficial in Parkinson's disease
Delhi: Terazosin (TZ) -- a drug used for the treatment of enlarged prostate -- could also be beneficial for Parkinson's disease (PD), suggests a recent study published in the Journal of Clinical Investigation.
Terazosin hydrochloride an alpha-1-selective adrenoceptor blocking agent is indicated for the treatment of symptomatic benign prostatic hyperplasia (BPH). There is a rapid response, with approximately 70% of patients experiencing an increase in urinary flow and improvement in symptoms of BPH when treated with HYTRIN (terazosin HCl).
The study found slower disease progression, decreased PD-related complications, and a reduced frequency of PD diagnoses in individuals taking TZ and related drugs. It suggests that enhancing PGK1 activity and increasing glycolysis may slow neurodegeneration in PD.
Parkinson's disease is a neurodegenerative disorder that affects predominately dopamine-producing ("dopaminergic") neurons in a specific area of the brain called substantia nigra. The disease lacks therapies to prevent progressive neurodegeneration. Impaired energy metabolism and reduced ATP levels are common features of PD.
Also Read: FDA approves istradefylline as new add-on drug to treat off episodes in Parkinson's disease
Terazosin helps ease benign prostatic hyperplasia (BPH) by relaxing the muscles of the bladder and prostate.
Previous studies have demonstrated that terazosin enhances the activity of phosphoglycerate kinase 1 (PGK1), thereby stimulating the glycolysis process and increasing the levels of cellular ATP.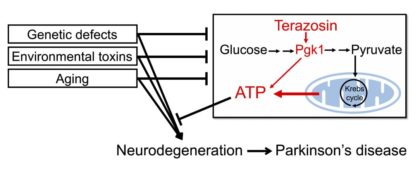 Picture Credit: Journal of Clinical Investigation
They studied 2,880 Parkinson's patients taking terazosin or similar drugs that target PGK1 and a comparison group of 15,409 Parkinson's patients taking a different treatment for BPH that had no action on PGK1.
Also Read: Vitamin D supplementation – a potential treatment for non‐motor Parkinson's disease, finds study
Patients on the drugs targeting PGK1 appeared to fare better in terms of Parkinson's disease symptoms and progression, which the researchers say warrants more study in clinical trials, which they plan to begin this year.
When they tested the drug in rodents it appeared to slow or stop the loss of nerve cells.
To begin assessing if the drug might have the same effect in people, they searched the medical records of millions of US patients to identify men with BPH and Parkinson's.
To read the complete study log on to
10.1172/JCI129987