Drug combo controls tumour growth in aggressive lung cancer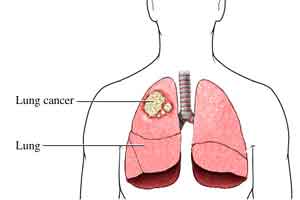 A combination treatment consisting of the rheumatoid arthritis drug auranofin and an experimental targeted agent may shut down one of the most common and lethal forms of lung cancer, says a study.
The combination therapy worked in a laboratory study to stop lung adenocarcinoma associated with mutation of the KRAS gene.
"If our approach works in KRAS-mediated lung adenocarcinoma, it may work in other KRAS-mediated cancers, such as pancreatic and colon cancers, as well as other cancer types," said the study's senior author Alan Fields, cancer biologist at Mayo Clinic in Florida, US.
The study was published in the journal Cancer Cell.
The researchers found that the combination therapy shuts down a major signaling pathway, or set of molecular mechanisms, that stimulates the growth of cancer stem cells in KRAS-mediated lung adenocarcinoma.
"Cancer stem cells are the really bad actors in many cancers," Fields explained.
"Cancer stem cells initiate cancer development, drive its growth and metastasis, and also develop resistance to treatments," Fields noted.
"This research indicates auranofin might be useful in treating many different cancer types," Fields said.
Based on this and other preclinical research, the team is conducting early-phase clinical trials to test the effectiveness of auranofin alone and in targeted combinations in patients with KRAS-mediated lung adenocarcinoma, ovarian cancer, and another common lung cancer called lung squamous cell carcinoma.
Source : IANS