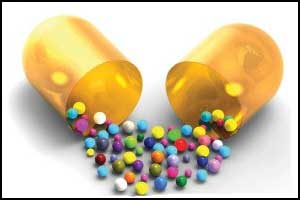 Researchers have discovered a drug combination that could slow down the progression of fibrosis, according to a new study.
The study, published in the journal European Urology found that a combination of phosphodiesterase type 5 inhibitors (PDE5i) such as vardenafil (Levitra), sildenafil (Viagra) or tadalafil (Cialis) and selective oestrogen receptor modulators (SERM) such as tamoxifen or raloxifene was effective in halting the fibrosis that causes Peyronie's Disease — a condition that causes penile curvature and inhibits erectile function in men.
Also Read: Adiponectin may be new biomarker for liver fibrosis
Fibrosis occurs when a wound or injury causes a type of cell, called fibroblast, to morph into a different type of cell called myofibroblast in order to heal the wound. It is responsible for the conditions such as cirrhosis of the liver, kidney, lung and heart fibrosis. The condition is believed to be responsible for almost half of all deaths.
Selim Cellek, Anglia Ruskin University, Chelmsford, UK, and colleagues conducted the study to identify potential drugs using a novel phenotypic assay and then to test them using in vitro and in vivo models of Peyronie's Disease (PD).
Normally, once the wound is healed, the tissue structure returns to normal. However, in some cases the myofibroblasts do not return to their normal state, go out of control and 'overheals' the wound, resulting in a scar tissue, which is dead tissue that serves no function.
The presence of scar tissue in major organs such as the kidney, lungs, liver or heart, is a serious problem and is estimated by the United States government to be responsible for 45% of all deaths.
In this study, scientists developed and validated a phenotypic screening assay model to test 21 different drugs. The successful hits from this assay were further tested using in vitro and in vivo models of PD.

Also Read: An Overview of Idiopathic Pulmonary Fibrosis
Key Findings:
The new assay was able to detect transforming growth factor-β1–induced myofibroblast transformation.
Using this assay, phosphodiesterase type 5 inhibitors (PDE5i) and selective oestrogen receptor modulators (SERMs) were identified to significantly inhibit myofibroblast transformation.
A PDE5i (vardenafil) and a SERM (tamoxifen) inhibited myofibroblast transformation, collagen gel contraction, and extracellular matrix production in a synergistic fashion.
In a rat model of PD, the antifibrotic effect of the combination of vardenafil and tamoxifen was greater than that of each drug alone.
"This is an extremely exciting development and one that has taken several years of hard work. Fibrosis is a very serious condition that, when it affects a major organ, can be fatal, said Cellek.
"The principle of fibrosis is what causes Peyronie's Disease and so this is an important breakthrough. Although we do not believe this particular drug combination will be able to reverse the fibrotic process, it has the potential to treat all fibrotic diseases and halt progression.
"To our knowledge, this is the first study of its kind to show a synergy between these two types of drugs. We look forward to taking this novel combination to clinical trials in the near future."
"Future clinical trials using a combination of these drugs should be considered during the active phase of PD, given the early evidence of benefit in both in vitro and in vivo models," concluded the authors.
For further reference follow the link: https://doi.org/10.1016/j.eururo.2018.10.014