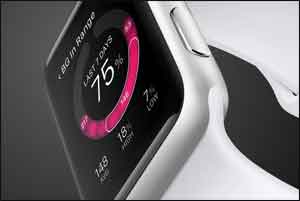 A study published in JMIR mHealth & uHealth found people with diabetes using the One Drop | Mobile app on their iPhone and Apple Watch reduces their hemoglobin A1c by an average 1.36%. Lowering A1c by an absolute 0.5% decreases cardiovascular disease by 10%. Each 1% A1c reduction is associated with a 37% decrease in the risk of microvascular complications and a 21% decrease in the risk of any diabetes-related complication or death.
"Study after study shows people using One Drop experience incredible outcomes. They eat fewer carbs, become more active, and experience dramatic results. But with the Apple Watch, results are even better," said Dr. Chandra Osborn, Vice President of Health and Behavioral Informatics at One Drop. At the recent Stanford MedX conference, One Drop reported people with type 2 diabetes using the app with a One Drop | Expert coach and an Apple Watch, had an estimated 1.2% A1c improvement in three months [1]. Without the Apple Watch, the estimated A1c improvement is 1% in three months [2].
Using retrospective app-collected data, One Drop, in collaboration with internationally-known scientists, assessed the self-reported A1c change of people using One Drop | Mobile on iPhone and Apple Watch who tracked their A1cs in the app. They also assessed whether app engagement was associated with an A1c change.
The latest published results come from 256 people with diabetes who had tracked at least two A1c values in the app (from 2 to 12 months apart), had their diabetes diagnoses verified with medications entered in the app, and had an average blood glucose consistent with their self-reported A1c values. Of the 65 people with type 1 diabetes and 191 people with type 2 diabetes, 23% were female, diagnosed with diabetes for a mean 8.3 years, and tracked an average 2176 self-care activities in the app between A1c values. Self-reported A1c can be as accurate as laboratory A1c [3], and self-reported A1c was significantly associated with 90-day average blood glucose and consistent with cohort studies testing the relationship between blood glucose and laboratory A1c [4]. During a median 4 months, A1c improved by -1.36% or -14.9 mmol/mol (from 8.72% [71.8 mmol/mol] to 7.36% [56.9 mmol/mol]). Using One Drop | Mobile to track food was independently associated with a greater A1c improvement when first adjusted for other data being tracked, and then further adjusted for gender, location, years of diagnosed diabetes, and time between A1cs.
"Improving A1c by 1.0% or more not only yields better quality of life for our users but also saves them an estimated $1,324.30 per person in the first year and an estimated $8,128.83 after five years," said Jeff Dachis, Founder and CEO of One Drop. "We are using behavioral- and data science-backed approaches to deliver the most accessible, engaging, affordable, and clinically effective digital diabetes self-care platform in market."
For more details click on the link : http://mhealth.jmir.org/2017/11/e179/.