Dr Narendranadh Meda, KIMS to Present rare surgery in international conference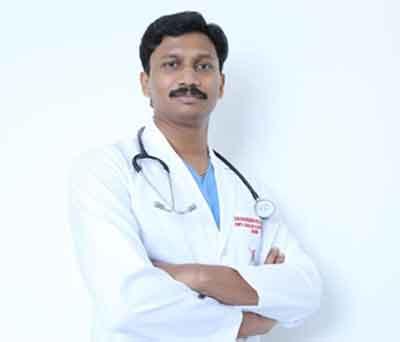 Hyderabad : Dr Narendranadh Meda, Consultant Vascular and Endovascular Surgeon at KIMS hospital is going to present the case of a rare surgery at an international conference. The surgery known as Trapdoor Aortic Thrombectomy was successfully performed at KIMS Hospitals, Secunderabad recently by him. Trapdoor Aortic Thrombectomy surgery with redo aorto-femoral bypass was highly critical in nature considering the thrombosis in the main artery and condition of the patient who is 50 years old and already underwent bypass for both legs in the recent past.
Dr. Narendranadh has been invited as an associate faculty to International Vascular Conference (VEITH Symposium) to talk about this successful rare surgery in New York on 17th November 2016.
Aortic thrombosis (Blood clot within the vessel) is an extreme and fatal condition affecting abdominal aorta or the main artery that supplies oxygenated blood to the entire body. Dr Narendranadh treated a 50-year-old patient from Hyderabad suffering from the complex disorder.
Explaining the development and more about the disease, Dr. Narendranadh Meda revealed that patient was a security guard by occupation from Hyderabad and aged 50 years had been complaining of rest pain in bilateral lower limbs and a colour change in his left leg. "The patient had undergone a bypass surgery for both lower limbs one year ago for similar complaints. Upon investigation, a large clot was found in the aorta causing near complete occlusion of arteries supplying blood to bowel and kidneys. The previous by-pass was also completely occluded compromising the blood flow to both lower limbs," he explained.
Later, elaborating on the surgery process, he said the aorta was opened in the form of a door and the entire clot was removed and a redo bypass to both lower limb arteries was done. "The patient has completely recovered. He had complete relief in symptoms and is doing well," he added.
"Trap door Aortic thrombectomy" is a very rare surgery ever to be performed in India and KIMS Hospitals is happy to have yet again conducted a successful surgery of this scale. I congratulate Dr Narendranadh and his team. The patient is doing fine and close to normalcy," Dr Bhaskar Rao, MD and CEO, KIMS Hospitals said.
Source : Press Release