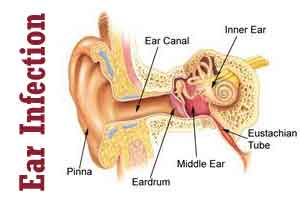 GPs and healthcare professionals should not prescribe antibiotics routinely for acute otitis media in children as most will improve without them, NICE have advised in a new draft guideline.
Antibiotics will not significantly reduce pain in otitis media in the first 24 hours, so in most cases, GPs should not prescribe them, the draft advice says.
According to an Estimate suggest one in four children experience a middle ear infection before they are 10 years old, and that 60% show signs of improvement in intensity of pain within 24 hours without antibiotics.Considering this, NICE says children and young people should be cared for with pain relief rather than antibiotics.This clarification about when and how to use antibiotics will assist in the fight against antibiotic resistance, which was recently called the "greatest threat to health" by the World Health Organisation.
Professor Gillian Leng, deputy chief executive and director of health and social care at NICE, said: "We are all too well aware of the dangers we are facing with antibiotic resistance, so it is vital these medicines are only used when they are effective.
The evidence shows antibiotics are not needed by most children and young people with middle ear infections. We must make sure the people who need them are given them, but routine prescribing in all cases isn't appropriate."
The draft also recommends that children with discharge from a perforated eardrum and children under two years with an infection in both ears should be offered a delayed or immediate antibiotic prescription. As a precautionary measure a back-up prescription may be given to the patient so that if their symptoms do not improve, or they worsen, they can collect the antibiotics from a pharmacy without needing to see their GP again.
The Public and Stakeholders have been given time until Thursday 19 October to comment on NICE's draft recommendations.
In short Guidelines state that Offer paracetamol or ibuprofen to all children and young people with symptoms of acute otitis media in order to reduce pain
Consider either no antibiotic prescription or a delayed prescription in children and young people with symptoms of acute otitis media unless they are under two years of age and have an infection in both ears or if they have otorrhoea
Guideline in full
Advise about the usual course of the infection if no antibiotics given
Explain how and when to use a delayed prescription
Consider either a delayed or immediate antibiotic prescription for children and young people with symptoms of acute otitis media and otorrhoea and children under two years of age with an infection in both ears
Prescribe in line with the NICE guideline on self-limiting respiratory tract infections
Offer an immediate antibiotic prescription to children and young people who are systemically very unwell, have signs of a more serious illness or are at high risk of serious complications due to pre-existing conditions
Refer for emergency care if they have signs or symptoms suggesting a severe systemic infection or an acute complication