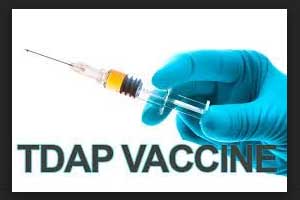 Prenatal Tdap vaccination-tetanus, diphtheria and acellular pertussis, is not associated with the increased risk for autism spectrum disorder (ASD) development in offspring, according to a retrospective cohort study of more than 80,000 children. The study was published in the journal Pediatrics.
The study showed that the autism spectrum disorder rate in children was 1.5 percent in the group of mothers who received the prenatal Tdap vaccine and 1.8 percent in the maternal unvaccinated group.
The Advisory Committee on Immunization Practices, which provides guidance on the use of vaccines for the United States, recommends pregnant women receive the Tdap vaccine to prevent pertussis infection, but some women still hesitate.
"Infants are at the highest risk of hospitalization and death among any population subgroup after contracting a pertussis infection, a highly contagious respiratory disease also known as whooping cough," said  Becerra-Culqui, the lead author of the study. "With waning immunity against pertussis in the United States, it has become very important for pregnant women to be immunized against pertussis. It is an immunity they pass on to their unborn baby."
"Pregnant women can be reassured by this study that there is no indication of an increased risk of autism spectrum disorder in children after being exposed prenatally to the Tdap vaccine," Becerra-Culqui added.
Researchers from Kaiser Permanente conducted a study to investigate the association between Tdap vaccination and ASD risk. The investigators evaluated 81,993 children born over a 4-year period (2011 to 2014) for an autism diagnosis. In the 2012 birth cohort, 26% of mothers received the prenatal Tdap vaccine, whereas 79% of mothers were vaccinated in the 2014 birth cohort.
Read Also: Tdap vaccine during pregnancy reduces pertussis occurrence in infants
Key study findings:
The autism spectrum disorder incidence rate in children was 1.5 percent in the maternal Tdap vaccinated group and 1.8 percent in the maternal unvaccinated group.
Prenatal Tdap vaccination coverage ranged from 26 percent for the 2012 birth cohort to 79 percent for the 2014 birth cohort.
Analyses of the data extracted from electronic health records showed that Tdap vaccination during pregnancy was not associated with increased autism spectrum disorder risk in children.
Results were consistent across study birth years and among first-born children.
"Our results potentially indicate that the maternal Tdap vaccine affects immune trajectories protecting infants against infections that would otherwise lead to neurodevelopmental alterations", write the authors.
The study concluded that Prenatal Tdap vaccination was not linked to an increased ASD risk and the authors support recommendations to vaccinate pregnant women to protect infants, who are at highest risk of death after pertussis infection.
"Given the increasing practice to vaccinate pregnant women with Tdap vaccine, it was important to address the concern of a link between maternal vaccination and subsequent development of autism spectrum disorder in children," he added. "We hope that our findings reassure parents that Tdap vaccination during pregnancy was not associated with autism in children," said Culqui.
For reference log on to http://pediatrics.aappublications.org/content/early/2018/08/09/peds.2018-0120
The following two tabs change content below.
Vinay Singh
Vinay Singh joined Medical Dialogue as Desk Editor in 2018. He covers the medical speciality news in different medical categories including Medical guidelines, updates from Medical Journals and Case Reports. He completed his graduation in Biotechnology from AAIDU and did his MBA from IILM Gurgaon. He can be contacted at editorial@medicaldialogues.in . Contact no. 011-43720751
Latest posts by Vinay Singh (see all)