Pune: Doctors surgically remove 3.5 kg tumour from patients stomach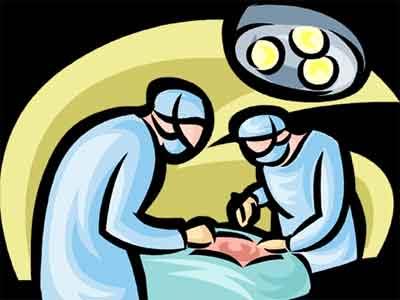 Pune: A patient with a gastrointestinal stromal tumor (GIST) measuring 35x35x32 cm and weighing 3.65 kg was successfully operated upon at a private hospital here. The 67- year-old patient experienced symptoms of pain, heaviness, distention, bloating and weight loss. Doctors have said that this is the largest tumor to have been surgically removed in the city.
Laproscopic and gastrointestinal surgeon, Dr Pradeep Sharma, Jehangir Hospital who performed the surgery, told the TOI, "The largest tumour that weighed 6 kg and measured 39x27x14 cm was reported in Turkey in 2015. Tumours of such sizes are extremely rare. Our examination had revealed that this large mass was occupying nearly half of his abdomen. The tests confirmed the tumour's origin in the stomach.In order to avoid any splitting, we decided to remove a part of pancreas and the spleen to get a cancer negative margin (no cancer cells in the outer edge)."
Doctors from the city are of the opinion that they have never extracted a tumour this large. "In my 38 years of practice, I have conducted many surgeries. However, I have never extracted any tumour weighing 3.5 kg. It is therefore extremely unique," said Dr Ramesh Dumbre, general laparoscopy surgeon at Ruby Hall Clinic.
The patient post surgery was treated with Imatinib and Sutatinib, drugs that are used as an adjunct therapy to the surgery and in case of disseminated diseases and is now
recovering
.
Gastrointestinal stromal tumors
(
GISTs
) are the most common mesenchymal neoplasms of the gastrointestinal tract. GISTs arise in the smooth muscle pacemaker interstitial cell of Cajal, or similar cells. They are defined as tumors whose behavior is driven by mutations in the KIT gene (85%), PDGFRA gene (10%),or BRAF kinase (rare). 95% of GISTs stain positively for KIT (CD117). Most (66%) occur in the stomach and gastric GISTs have a lower malignant potential than tumors found elsewhere in the GI tract.
GISTs are tumors of connective tissue, i.e. sarcomas; unlike most gastrointestinal tumors, they are nonepithelial. About 70% occur in the stomach, 20% in the small intestine and less than 10% in the esophagus. Small tumors are generally benign, especially when cell division rate is slow, but large tumors disseminate to the liver, omentum and peritoneal cavity. They rarely occur in other abdominal organs.
GISTs are thought to arise from interstitial cells of Cajal (ICC), that are normally part of the autonomic nervous system of the intestine. They serve a pacemaker function in controlling motility.
Source : With inputs