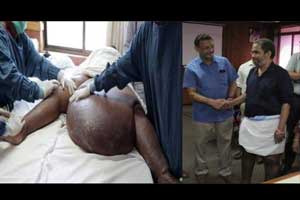 Saidalavi , a  46-year-old man from  Kerala was bedridden as he was suffering from lymphatic filariasis for the last two years and had a  massive swollen mass hanging from his left thigh in a sac-like structure that weighed a staggering 14 kg.His life changed radically for the better a few days ago when a team of five surgeons and three anesthetists at Amrita Institute of Medical Sciences in Kochi removed the deformity in a surgery that lasted over five hours. Dr Subramania Iyer, Head, Plastic & Reconstructive Surgery, Amrita Institute of Medical Sciences, Kochi, said "It was a complex surgery. Several complications could rise because of the patient being overweight and his inability to walk.  
 The doctors first treated him for four weeks with intensive antibiotic therapy to control infection in his legs. Then, the challenge was to institute Comprehensive Decongestive Therapy (CDT) which plays a major role in preparing a lymphedema patient for surgical treatment. In Saidalavi's case, this went on for a month and involved Manual Lymphatic Drainage (MLD) and a special method of bandaging to make the legs softer by pushing the accumulated fluid to other parts of the body. The size of his swollen legs and immobility made this very difficult and needed at least four therapists instead of the usual one."
Dr Subramania Iyer added: "Finally, his leg was ready for reduction. It was a challenge for anesthetists to manage the big excision in such an overweight patient. Saidalavi's physical transfer to the operating table and correct positioning during surgery was also difficult and required meticulous planning. The surgery was successful and the swelling was removed. However, a massive leaking of fluid from the wound began, which would have prevented healing if sutured immediately. Therefore, we used the technique of vacuum-assisted dressing for the next seven days to suck out the fluid and reduce the size of the legs. Finally, a month after surgery, it was a delightful day for Saidalavi, his family and the lymphedema management team of Amrita Hospital to make him walk on his own without support. He will need further reduction surgery on both the legs after 6-9 months, and then he will be able to lead a normal life."
Said the patient Saidalavi: "I thank the doctors of Amrita Hospital from the bottom of my heart for enabling me to lead a normal life. It is an amazing feeling to stand on my own two feet without any support. I had given up all hope and was even worried that my legs would need to be amputated if the infection spread. I have now got my life back and look forward to taking up a job again." India has the highest number of lymphedema patients in the world, a crippling condition involving the collection of body fluid in any part of the body, leading to its abnormal enlargement and eventual disability. The incidence is high mostly due to lymphatic filariasis (elephantiasis), a tropical infection with the filarial worms transmitted through mosquito bites.
Said Dr Mohit Sharma, Professor, Dept. of Plastic & Reconstructive Surgery, Amrita Institute of Medical Sciences, Kochi: "Lymphedema is a major health problem in India, next only to malaria. In fact, the country has the highest number of lymphedema patients in the world. Lymphatic filariasis (elephantiasis) is endemic in 250 districts in 20 states, putting 600 million people at risk. Kerala has about 6 to 7 lakh cases of this disease. The patients, mostly poor and marginalized, suffer mental, social and financial losses, leading to life-long stigma and poverty. To make matter worse, an increasing number of people are acquiring lymphedema as a side-effect of breast cancer therapy."