Doctors remove largest Parapharyngeal tumour Transorally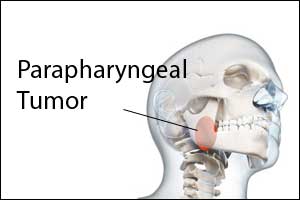 A Chennai based 36-year-old F, Rathi, was suffering from difficulty in breathing and swallowing for Six months due to lump in her throat. The growth was painful and was troubling enough to lead to insomnia to the patient.
The patient reported to Stanley Medical College and Hospital where doctors detected a big tumour in a patient's throat. In the MRI scan, a 10x5x4 cm soft tissue swelling was found in the left parapharyngeal space, which was slowly displacing the blood vessels to the brain. The patient was advised surgery to which she agreed but she would prefer a scarless one.A request by Rathi made the task of removing the 10cm-long growth more challenging: "She asked if we could undertake the procedure without leaving a scar on her neck," hospital dean Dr Ponnambala Namasivayam told TOI.
Surgeons in the college's ENT department discussed among themselves and decided to excise the cylinder-shaped tumour Transorally without opening her throat. It took a team of experts about three hours to remove the tumour in a surgery–reportedly the first time in the world that such a huge mass was removed transorally, said doctors.
"We decided to extract the tumour through the oral cavity," ENT department head Dr S Muthuchitra said. The largest tumour that they had removed with the same procedure was 8cm long. In Rathi's case, the tumour was visible through her mouth.
On December 29, Rathi underwent a three-hour operation to give her a fresh start. First up was tracheostomy — surgery to create an opening in the neck for direct access to the trachea (breathing tube). A team of six surgeons then excised the tumour and slid it out via the throat. The patient was kept in observation for one month.
Three months later was called for a follow up where she reported that she could now breathe normally and had no difficulty in swallowing either.
Source : with inputs