Doctors remove five-inch long cancerous "dragon horn" from back of patient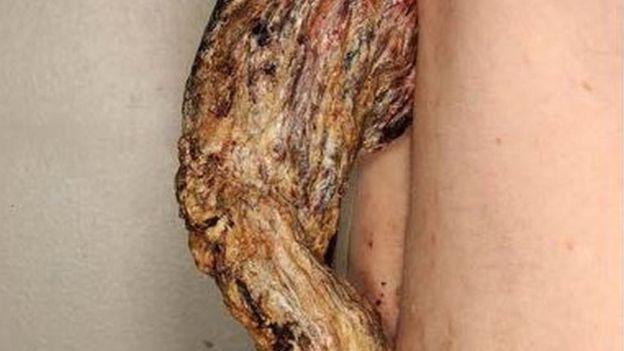 Doctors operated on a 50-year-old man and removed a five-inch cancerous "dragon horn" from his back at the Countess of Chester Hospital and later on put a skin graft taken from his thigh on it. It took over three years for the development of such "enormous" growth. But doctors were surprised that there was no abnormal growth in his lymph nodes. The case has been published by the British Medical Journal.
Doctors at the Countess of Chester Hospital in Cheshire conducted a "wide local excision" of the 14 cm tumour under general anaesthetic and performed a soft tissue reconstruction using skin from his thigh.
It turned out to be Squamous Cell Carcinoma which is second most common non-melanoma skin cancer. Most cases of Squamous Cell Carcinoma are diagnosed and treated early before becoming what the medical community refer to as "dragon horns". The patient, however, did not report any previous history of significant sun exposure and no family history of skin malignancy. He did not take any regular medication but he was a smoker.
Cutaneous horns are thought to result from underlying benign, premalignant or malignant in 61.1%, 23.2% and 15.7% of cases, respectively. Squamous cell carcinoma has been reported in 94% of horns with a malignant base. Risk factors that predispose to the development of cutaneous squamous cell carcinoma include light skin (Fitzpatrick
skin types I–III), age, male sex, exposure to sunlight or other ultraviolet radiation, immunosuppression, human papillomavirus, chronic scarring conditions, familial cancer syndromes and environmental exposures, such as arsenic.
The article's authors, Agata Marta Plonczak, Ramy Aly, Hrsikesa Sharma, and Anca Breahna said they were raising awareness of skin cancer. They wrote: "We report a rare case of an extremely large well-differentiated Squamous Cell Carcinoma that was neglected by a patient living in a developed country with access to free healthcare."This highlights that despite current public skin cancer awareness and rigorous healthcare measures, cases like this can still arise and slip through the net."
For further reference log on to:
BMJ Case Reports
Source : BMJ Case Reports