Doctors perform Double Root Translocation surgery in 3-year-old boy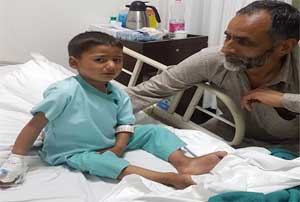 A team of doctors at Fortis Memorial Research Institute (FMRI) recently performed a rare Double Root Translocation Surgery to cure three-year Mohammed Aasim, from Safapora, Ganderbal in Jammu and Kashmir recently.
The complexity of the case required an 8-hour-long surgery to correct the condition of a large hole in the heart as well as the aorta and pulmonary artery coming out from the wrong chamber.
The treatment was supported by a joint initiative of Fortis Foundation, Rotary Club of Delhi – East End and Radha Mohan Mehrotra Medical Relief Trust (RMMMRT) to provide treatment to children from economically weaker sections of society.
The team of doctors was led by Dr Vijay Agarwal, Director and Head of Department, Paediatric Surgery, Fortis Memorial Research Institute (FMRI) in Gurgaon.
Aasim had been sick since his birth. Due to the blocked blood vessel, the oxygen concentration in his blood was a mere 52 per cent against 100 per cent resulting in his body turning blue.
His condition was critical as his haemoglobin increased to an alarming level of 20 in response to hypoxia, a condition where tissues get deficient oxygen supply. Aasim's family could not afford the cost of this complex treatment. Visits to several hospitals later, Aasim's family visited a health camp organised by Rotary Club of Delhi – East End. After the medical evaluation, Fortis Foundation, Radha Mohan Mehrotra Medical Relief Trust (RMMMRT) and Rotary Club of Delhi-East End stepped in to financially support the surgery under the 'Umeed Dhadkan' Initiative.
As many as, 20 children from Jammu and Kashmir, suffering from a congenital heart defect, have already been treated under this programme
The elated grandfather of Aasim and breadwinner of the family Ghulam Mohd Baht said, 'We are so happy that my grandchild can now live like a normal child. This would not have been possible without the help and support that we have received from Fortis Foundation, Radha Mohan Mehrotra Medical Relief Trust (RMMMRT) and Rotary Club of Delhi- East End. Dr Agarwal took good care of Aasim and we can already see the difference in his energy levels. We thank you all for your support in saving Aasim and bringing back happiness in our lives.'
About the complexity of the treatment, Dr Vijay Agarwal said, 'The 8-hour long operation and post-op recovery of the patient was smooth. He came out of the ventilator only 5 hours after being shifted from the ICU.
The next day, his oxygen concentration was restored to 100 percent. He was put on a liquid and semi-solid diet and awaits discharge just 7 days after the operation. Statistics of DRT repair are not available in India but it is estimated that only 5-6 such operations have been conducted in India by 1-2 surgeons.'
'Umeed Dhadkan' is an initiative under Fortis Foundation's Aanchal programme. It acknowledges that children should not be deprived an opportunity to lead a healthy life due to the economic constraint. Under the Umeed-Dhadkan initiative, as many as 4,341 children have been treated from different parts of the country.
Speaking about this initiative, Mr Jasbir Grewal, Head, Fortis Foundation said, 'This initiative is an effort to reach out to those children who suffer from critical medical conditions, especially congenital heart defects and assist them to get the best treatment. Aasim is a loveable child who is now hale and hearty after undergoing this complex surgery. We collaborated with our partners to help the family as they could not afford this surgery. It is our constant endeavour to reach out to such families, who need support, to get treatment for their children. It is an extremely gratifying experience to be a small part of this process - one that puts a smile back on the face of a child and their families.'
Transposition of great arteries (TGA) is a congenital heart defect caused due to the abnormal development of the foetal heart during the first eight weeks of pregnancy. It is usually associated with left ventricle outflow tract (LVOT) obstruction. Due to the provision of low amounts of oxygen to the body, this heart problem is also called the "blue-baby syndrome."
TGA is the second most common congenital heart defects prevalent in early infancy and occurs in roughly 3 percent of all heart-related birth defects.
Source : UNI