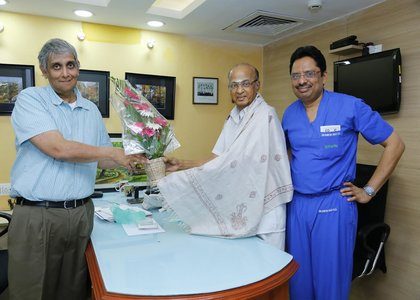 Chennai :Cardiac expert's team at the center of excellence for advanced cardiac care Fortis Malar, Chennai, led by Dr. K R Balakrishnan, Director Cardiac Sciences and Dr. Suresh Rao, Head of Cardiac Anesthesia & Critical Care  performed a lifesaving critical heart transplantation surgery on a Senior Citizen. The heart transplant was done on 2nd December, 2016 and the patient recovered well and he has been discharged.
78 year old Subramanian was suffering from a condition called "Ischemic cardiomyopathy", where the arteries that supply blood to his heart muscle become narrowed. He was also has hypertension and diabetes on regular medication. Doctors finally diagnosed him as having heart failure and advised his family about heart transplant.
On November 2016, he developed disorientation and weakness of limbs. MRI brain was done which revealed right temperoparietal subdural haematoma with mass effect. Neurologist advised for craniotomy for evacuation of blood clot. Because of ischemic cardiomyopathy and severe LV dysfunction, risk of craniotomy overweighs the benefit. After discussing it with patient and his family, craniotomy was deferred and he was managed conservatively.
A month later, when an organ was available through cadaver donation for transplant Subramanian was taken up for surgery immediately. While the surgery was successful, his post-surgery recovery period threw up a few challenges in his medical condition. The doctors immediately applied appropriate treatment solutions to rectify them and Subramanianslowly improved. Two weeks later, a CT scan revealed signs of further improvement and he was discharged after normalization.
Dr. K R Balakrishnan, Director, Cardiac Sciences, Fortis Centre for Heart Failure and Transplant, at Fortis Malar, said, "He had been on medication for more than a year since he was diagnosed with decreased pumping efficiency of the heart of around 28 % (Normal being 60 percent) a condition denoting his poor heart function and his condition became precarious. Upon his arrival at Fortis Malar, we performed a detailed medical examination, and realised he also had right temperoparietal subdural haematoma with mass effect. All this just made his condition extremely difficult to treat."
Commenting on the successful heart transplant Dr Suresh Rao, Head, Cardiac Anaesthesia and Critical Care, Fortis Malar Hospital, Chennai said "He is the oldest patient to have heart transplantation in India. His kidney function was impaired with creatininof more than 3.5mg/dl (normal is 1mg/dl) and he had a blood clot in the brain.   So it was a challenge to manage during the surgery. Starting fromgiving anesthesia to fixing the heart in the chamber was a risky one because the man was elderly andsick to withstand anesthesia."
Subramanian is a happy man and is grateful to God that he was lucky. "I already feel I have got a new lease of life," he said.  His daughter said, "My father has been suffering for the last one year due to heart problem, he couldn't do normal activities, it's been very traumatic. Our family took a bold decision to go for a heart transplant and we are extremely happy with the success. "
The following two tabs change content below.
supriya kashyap
Supriya Kashyap Joined Medical Dialogue as Reporter in 2015 . she covers all the medical specialty news in different medical categories. She also covers the Medical guidelines, Medical Journals, rare medical surgeries as well as all the updates in medical filed. She is a graduate from Delhi University. She can be contacted at supriya.kashyap@medicaldialogues.in Contact no. 011-43720751
Latest posts by supriya kashyap (see all)