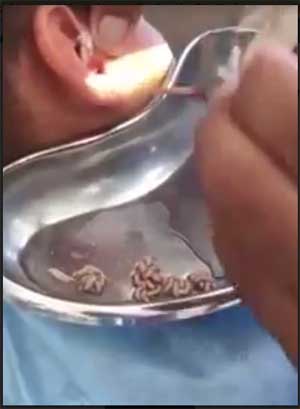 In what could be termed as a horrifying case, the doctor of Kazakhstan has removed dozones of squirming live maggots from a boy's ear.
As per recent media reports, an unidentified young boy had came to the doctor complaining of earache. The doctor examined the boy and found that the real cause of the pain in boy's ear was squirming live maggots inside his ear.
The doctor decided to remove those maggots from his ear. He stared removing the maggots one by one and after few minutes the there were dozens of maggots wriggling in the stainless steel container.
The maggots are one centimeter long and believed to be the larvae of a bluebottle or blow fly (Calliphoridae).
Aida Abdybekova, deputy director of the Kazakhstan Scientific Researching Veterinarian Institute, said the case was not unique.
She said: "There are cases when insects lay their eggs or larvae inside the human ear canal."
It's not known what happened to the unnamed boy after the larvae were removed from his ear, reports SUN