Do Low Levels of Vitamin B12 Lead To An Increase In Heart Health?- Dr Vaibhav Mishra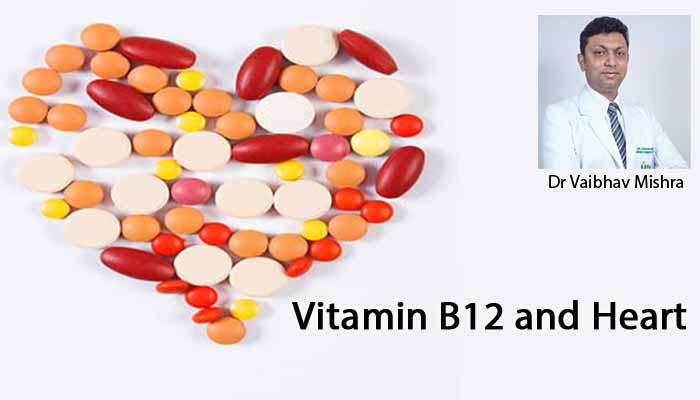 Vitamin B12 or Cobalamin is a nutrient that helps keep the body's blood cells and nerves healthy and helps in making DNA. It is essential for normal metabolism of the body's cells and is a key component in energy production. Vitamin B12 is naturally found in Animal products including Meat, Fish, Poultry, Eggs and various Milk products. Although plant-based diets are full of other vitamins and minerals, they are generally devoid of Vitamin B12. Consequently, Vegetarians and Vegans run the risk of Vitamin B12 deficiency.
In Humans, the stomach and small Intestine absorb Vitamin B12 from food and it becomes deficient when your body cannot absorb enough of it from foods you eat. Medical causes for Vitamin B12 deficiency include Atrophic Gastritis, Crohn's disease, Celiac Disease, Pernicious Anemia and Graves' Disease. Medications that may interfere with the absorption of B12 include medications for Gastritis like Pantoprazole and Ranitidine. With an increase in age, it can become harder to absorb this Vitamin. It can also happen if you have had weight loss surgery or another operation that removed part of your stomach or intestine. It can also occur due to Chronic Alcohol consumption.
Studies have shown that Vitamin B12 helps decrease Homocysteine levels, which may reduce your risk of Heart disease in your body. Homocysteine is a type of Amino acid which is involved in clot formation in the arteries of the body. The Molecular mechanism underlying the Prothrombotic actions of Homocysteine is incompletely understood. Its increased levelsare caused due to low levels of not only Vitamin B12 but also Vitamin B6 and Folic acid. Current evidence from various studies shows debatable outcomes regarding the association of higher homocysteine concentration with increased risk of Coronary artery disease and Stroke.
In view of these findings, Researchers from Japan have done clinical trials among vegetarians evaluating the association of Vitamin B12 with Cardiac disease. On the pretext that deficiency of the Vitamin is associated with a variety of atherogenic processes that are mainly, but not exclusively, due to Vitamin B12 deficiency-induced Hyperhomocysteinemia. They arrived at outcomes showing some association between them, however, these studies have been limited to the Asian population.
As of today, the Jury is still out about not only the damaging effects of the Amino acid but also the Vitamins potential benefit in preventing Heart disease. Hence it would be justified to say that Vitamin therapy to supplement Vitamin B12 levels to lower Homocysteine concentrations should not be routinely recommended in the general population until the benefit is proved by controlled clinical trials.
Dr. Vaibhav Mishra (the author) is the additional director of dept of Cardiac Surgery, Fortis Hospital, Noida