Distal Humerus Fractures In Adults - Standard Treatment Guidelines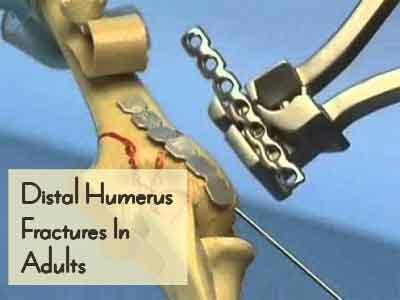 Fractures of the distal humerus in the adult comprise approximately one third of all humeral fractures. Successful management of distal humerus fractures depends on correct reduction of the fracture, reconstruction of the articular surface if needed, stability and rigidity of the fixation, and appropriate rehabilitation.The Ministry of Health and Family Welfare has issued the Standard Treatment Guidelines Critical Care for Distal Humerus Fractures In Adults. Following are the major recommendations:
Incidence :
Classification :
AO Classification is the easiest to follow and contemplate on management:
1.3.A – Extraarticular
A.1 – Avulsion Fragment
A.2 – Simple Fracture
A.3 – Comminuted
1.3.B – Partly Articular
B.1 – Lateral Condyle Fracture – Saggital Plane
B.2 – Medial Condyle Fracture – Sagittal Plane
B.3 – Fracture in Frontal Plane.
1.3.C – Articular Fracture
C.1 – Articular Simple Metaphyseal Simple
C.2 – Articular Simple Metaphyseal Multifragmentary
C.3 – Articular Multifragmentary
Diagnosis:
History – Accident / Fall on Hand sustaining injury to Elbow. Pain around elbow joint which increases on movement
Examination – Swelling, Deformity, Bruising, Tenderness, Crepitus, Instability
Check for any signs of Compartment Pressure
Check for Distal Pulses & Neurological deficits, of Ulnar, Radial and Median Nerves
Investigations:
X Ray – Elbow AP / Lateral View
Traction View
Special Tests – CT Scan – To delinate the fracture & plan Surgery especially in Intraarticular fractures
Compartment Pressure Monitoring in suspicious cases
Ultrasound Doppler Study – to rule out vascular injury
Angiogram – If vascular injury is suspected
MRI – rarely needed
Treatment:
Initial Management – Splint the Limb with elevation & Ice Packs applc'n along with Anti-Oedema measures.
Proper Management –
a) Conservative – In Medically unfit patients – Cast / Bag of Bones Treatment
b) Surgical – External Fixator – in Open Fractures
Open Reduction & Internal Fixation (ORIF)
- 3.5mm LCDCP - LCP
– Anatomical Plates
Total Elbow Arthroplasty – In cases with extreme intraarticular comminution
Complications:


Postoperative infection


Nerve injury, especially ulnar nerve palsy


Vascular injury


Elbow stiffness


Hardware prominence


Loss of fixation


Nonunion


Malunion


Heterotrophic bone formation


When to Refer :


In cases with Polytrauma (Head / Chest / Abdominal / Pelvic Injuries) – "Life before Limb"


In cases with Vascular Injury – for Vascular repair


In cases with Neurological Injury – for Immediate / Delayed Nerve repair.


Relatively in B and C fractures if the facilities are not available


Comments:
The common deficiency
(a) The writing style is not consistent. Radial head fracture is given as 33% of elbow region while distal radius as 1/6 of fracture (not known) of what?
(b) Imaging – just mentioned AP, Lateral and sometime oblique. Why and for what a particular special x-ray is needed?
(c) Complication has been clubbed as most common to least common, early or late in one list. This will not help.
(d) When to refer – Generally written type B & C to higher center. Can we make such guidelines in the issue.
The outcome of treatment depends on –
a) Training of the surgeon.
b) Infrastructure – operating theatre & available instrumentation
We need to define what all we should have in primary health center, secondary and tertiary care centre. If we refer all type B & C fracture for all fractures than how the patients in Village, Tehsil, District will be treated as we do not have any networking of referral centers (they are all concentrated in the cities. Summarily the objective of the guidelines should be well stated. Is it to stop small centers in cities to stop operating the particular type of fractures and force them to refer or to make a national policy for the overall effective management of the orthopaedic patients?
Guidelines by The Ministry of Health and Family Welfare :
Group Head Coordinates of Development Team Dr. P.K. DAVE, Rockland Hospital, New Delhi Dr. P.S. Maini, Fortis Jessa Ram Hospital, New Delhi
Reviewed By
Dr. V.K. Sharma, Professor Central Instiute of Orthopaedics, Safdarjung Hospital, New Delhi