Digital mammography detects breast cancer better than screen-film mammography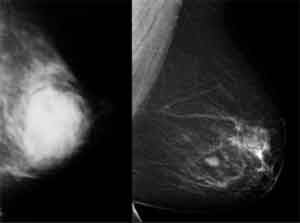 A new study published in the journal Radiology has reported that digital mammography showed a greater detection of breast cancer compared to screen-film mammography.
Having its presence over a decade in clinical settings, researchers found the overall cancer detection rate was 14 percent greater with digital mammography than film mammography.
Read Also: Initiate Mammography screening at 30 for some women, recommends new study
Digital mammography(DM) increased the detection of some types of cancers more than others. For instance, digital mammography significantly increased the detection of ductal carcinoma in situ, or DCIS, early-stage cancer confined to the milk ducts of the breast, at both first screens and subsequent screens.
"Image quality with digital mammography is improved over that of screen-film mammography," said radiologist and study coauthor Rosalind Wilson. "In particular, digital mammography provides the ability to visualize calcifications and see through denser tissue, and it allows the reader to adjust the image, "he added.
Roger Blanks and associates performed a retrospective analysis to report the impact of changing from screen-film mammography to digital mammography (DM) in a large organized national screening program.
Read Also: 3D mammography more effective for breast cancer screening
The authors found that there were higher rates of detection through DM of grade 1 and 2 invasive cancers (both ductal and lobular), but no change in the detection of grade 3 invasive cancers. The recall rate was almost unchanged by the introduction of DM.
Moreover, at first screening exams for women aged 45 to 52, digital mammography increased the overall detection rate by 19 percent. Importantly, the higher sensitivity of digital mammography did not increase the recall rate--the rate at which women are called back for additional screening based on suspicious results.
The authors concluded that these results confirm that digital mammography is superior to screen film mammography in finding invasive cancers and DCIS. However, the researchers found no improvement in the detection of grade 3 invasive cancers with digital mammography.
For full information log on to https://pubs.rsna.org/doi/10.1148/radiol.2018181426
Source : With inputs from the journal Radiology