Dietary carbohydrates could lead to osteoarthritis, new study finds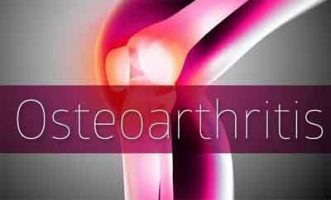 Researchers from the Oklahoma Medical Research Foundation found that the carbohydrate composition of diets increased the risk of osteoarthritis in laboratory mice even when the animals didn't differ in weight. The study was published in the journal Disease Models & Mechanism.
Osteoarthritis(OA), is the most common form of arthritis which occurs when the cartilage that cushions bones in the joints breaks down and wears away, causing the bones to rub against one another. Risk factors associated with OA include high-impact physical jobs, previous joint injuries, age and genetics and being overweight.
"We know increased body fat elevates risk, but we haven't appreciated as much how diet itself affects the disease risk," said the lead author of the study, Griffin. "These findings give us new clues that there can be significant dietary effects linked to increased OA risk even in the absence of obesity," he added.
Obesity is one of the most significant risk factors for knee osteoarthritis. Griffin and his associates conducted a study to test the hypothesis of whether increased sucrose content of typical low-fat control diets contributes to osteoarthritis pathology and thus alters outcomes when evaluating the effects of a high-fat diet.
"Obesity is one of the most significant factors for developing the disease in the knee joint," said Griffin. "However, therapeutic strategies to prevent or treat obesity-associated OA are limited because of the uncertainty about the root cause of the disease."
The researchers tested the hypothesis on male C57BL/6J mice by comparing the effect of purified diets that independently varied sucrose or fat content from 6 to 26 weeks of age. Outcomes included osteoarthritis pathology, serum metabolites, and cartilage gene and protein changes associated with cellular metabolism and stress-response pathways.
Read Also: Gut microbiome may be causing Osteoarthritis in obese patients
Key study findings:


The relative content of sucrose versus cornstarch in low-fat iso-caloric purified diets caused substantial differences in serum metabolites, joint pathology, and cartilage metabolic and stress-response pathways despite no differences in body mass or body fat.


The higher dietary fat increased fatty acid metabolic enzymes in cartilage.


According to the authors, the findings indicate that the choice of control diets should be carefully considered in mouse osteoarthritis studies and the study shows that altered cartilage metabolism may be a contributing factor to how diet and obesity increase the risk of osteoarthritis.
"It's important to understand how our diet affects the health of our joints," Griffin said. "We were surprised to see so many OA-related differences between the two high-crab diets even though body weight and body fat were the same."
For reference log on to http://dx.doi.org/10.1242/dmm.034827
Source : With inputs from the journal Disease Models & Mechanism