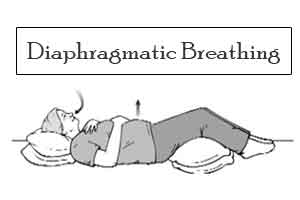 In a prospective study Dr.Ong AM, et al. investigated whether diaphragmatic breathing therapy is effective in reducing belching and proton pump inhibitor (PPI) refractory gastroesophageal reflux symptoms and have found that a four-week guided therapy in Diaphragmatic breathing "belly breathing" was effective in reducing excessive belching and overall GERD symptoms. The study has been published in Clinical Gastroenterology and Hepatology.
In Diaphragmatic breathing, one hand is placed on the upper chest and one hand on the abdomen just below the rib cage at the bottom of the sternum. Patients are initially instructed to take a deep inspiratory breath to demonstrate chest wall movement, but then to take breaths by only moving the abdomen, while keeping the chest motionless.
The researchers in Singapore performed a prospective study of 36 consecutive patients with GERD refractory to PPI therapy and a belching visual analogue scale (VAS) score of 6 or more, seen at a gastroenterology clinic at a tertiary hospital in Singapore from April 2015 through October 2016. Patients underwent high-resolution manometry and 24 hr pH-impedance studies while they were off PPIs. Fifteen patients were placed on a standardized diaphragmatic breathing exercise protocol (treatment group) and completed questionnaires at baseline, after diaphragmatic breathing therapy, and 4 months after the therapy ended. Twenty-one patients were placed on a waitlist (controls), completed the same questionnaires with an additional questionnaire after their waitlist period, and eventually received diaphragmatic breathing therapy.
After a 4-week treatment, there was a reduction in belching severity by ≥50% (primary outcome)  in 60% of the DBT group and none of the controls. DBT was also associated with improvements in overall GERD symptom score and quality of life. These outcomes were sustained 4 months after treatment ended.
The researchers concluded that a standardized protocol for diaphragmatic breathing was effective to reduce belching and PPI-refractory gastroesophageal reflux symptoms and increase Quality of Life in patients with PPI-refractory GERD with belching-especially those with excessive supragastric belching.
For further reading log on to :
https://linkinghub.elsevier.com/retrieve/pii/S1542-3565(17)31307-1